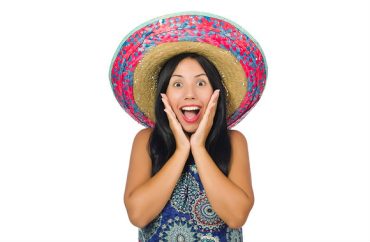 UPDATED
Mexican student 'excited that our team incorporates a part of the Mexican heritage'
If #TacoTrucksOnEveryCorner is Twitter's cheeky response to a Latino Donald Trump supporter warning about the hegemonic tendencies of his culture, the complementary hashtag for non-Latino whites is #SombrerosIntheCloset.
Latino student activists at Cornell University freaked out when football team's offensive coordinator, Roy Istvan, tweeted photos of two football players wearing a sombrero – and the school's official Twitter account retweeted it, The Tab reports:
Posting on the MECha [de Cornell] group, Silvia Treviño and Matthew Indimine expressed disgust at the university for not acting on the incident, and called for "cultural sensitivity training" for the staff involved. …

[Treviño said:] "Will you pass a proposition to recommend a faculty/staff diversity and cultural sensitivity training? Or will you just push it under the rug as you did the Cinco de Octubre event? I expect a response to this from the Minority Liaison."
The activists also suggest trying to get Istvan disciplined for his gesture.
MORE: Off-limits at Cornell: sombreros, ponchos, nachos
A Mexican football team member from Texas, Gustavo Dorsett, responded that his family in Mexico "would certainly laugh and be excited that our team incorporates a part of the Mexican heritage in celebrating our player awards":
This is being blown up by sensitive people on social media who aren't even of relevance to the Mexican culture.
The Washington Times notes that one of the complainers, Matt Indimine, is executive vice president of the Student Assembly, who used the power of his office to demand Cornell "remove this immediately" (unclear whether he means undo its retweet or force Istvan to remove his tweet).
The Cornell Review has a rundown of other comments.
MORE: Most ridiculous examples of campus 'Latino' outrage
Barbara Cruz wonders why the sombrero is so popular among Americans:
There's legit like dozens and dozens of designs of hats in this world. I feel like a crown makes more sense. A fancy top hat. Like. Why a sombrero?
Maybe because Mexico borders the United States and sombreros are festive?
Coach Istvan deleted the tweet and apologized on Twitter, explaining that the sombrero is a reward to players "who represent the best teamwork and winning spirit on and off the field."
@kolombrini_ @Cornell
I am truly sorry for the cultural insensitivity and understand how our expression of pride

— Roy Istvan/ COACH I (@COACHISTVAN) September 21, 2016
@kolombrini_ @Cornell
Came at the expense of others in the Cornell community

— Roy Istvan/ COACH I (@COACHISTVAN) September 21, 2016
The likely result of MEChA's campaign to get the coach punished, of course, is that non-Latinos will hide their sombreros in the closet and only wear them, defiantly, at home alone, where the bias response team can't reach them (yet).
If you want to learn more about "Chicanx" (gender-neutral Chicano) culture and have a civil conversation about sombreros and cultural appropriation, MEChA de Cornell is having a social on Sunday.
Read The Tab and Review stories.
UPDATE: The Cornell Review removed the name of a student quoted in its report because that student said the comment was a prank by others. The Fix has done the same.
MORE: Cornell black student group shares 'racist' Asian image, no one cares
Like The College Fix on Facebook / Follow us on Twitter
IMAGE: Elnur/Shutterstock