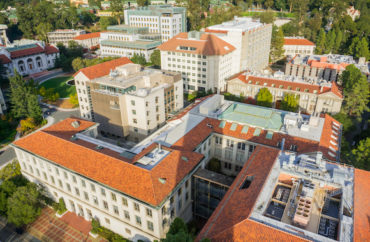 Campuses closed as lockdown increases; students plan to take activism online
Ongoing graduate student strikes at the University of California are adjusting to the rapid spread of the coronavirus in that state and the rest of the country.
Grad students have been protesting at multiple University of California campuses since late last year demanding, among other things, a major "cost of living" adjustment. The strikers have variously refused to submit final grades, ceased research work, and refused to teach required classes, all regular features of a graduate workload.
Yet the spread of the coronavirus, which the World Health Organization last week declared a pandemic, has led to the effective closure of the campuses of the University of California system, with the school largely switching over to remote classes and instruction, leaving the activist efforts of the striking grad students in an uncertain position.
Students demand a cost-of-living adjustment
The loosely coordinated efforts were kicked off at the University of California, Santa Cruz in December, when grad students there announced that they would begin withholding final grades as part of an effort to gain a substantial "cost-of-living" raise. The protests escalated to the point that graduate students were refusing to teach classes, hold office hours and conduct research.
The university responded a few weeks ago by firing several dozen striking students. The school was subsequently forced to effectively close for one day after strikers blocked all entrances to campus.
Protests concurrently ramped up at other universities. Activists at the University of California, Santa Barbara, initiated their own strike late last month, partly in solidarity with the protesters at Santa Cruz and partly to secure their own COLA increase.
The website of UCSB 4 Cola states that the group seeks an "ongoing stipend to every graduate student that would bring us out of rent burden." The group is demanding a hike of $1,807.51 per month, with the stipend being extended to every graduate student at the Santa Barbara campus "regardless of their graduate program, department, year in program, residence, visa category, documentation, funding source, and employment status."
The activists have encouraged teaching assistants to protest by either stopping all teaching assistant-related work such as teaching, grading and proctoring exams, or by doing a partial strike where assistants do "not submit any grades, except for students in precarious situations." The website provides a chart for students to follow to determine if their situation qualifies as "precarious."
USCB 4 Cola was the only striking group contacted by The College Fix that responded to The Fix's queries. The group was reached via Facebook Messenger and, in a bizarre exchange, claimed The Fix was "not an independent periodical" but rather one that is "funded by the oil and gas industry." The respondent also suggested that this writer is "not a journalist."
Schools have been reluctant to concede to protesters
The other campuses of the University of California system have seen similar activity. UCLA grad students vowed to go on strike if they could rally enough of their follow students. Protesters at UC Berkeley elected last week to go on strike, going so far as to set up a GoFundMe to fund those efforts. Students at the University of California, San Diego are currently on a "grading strike" to force the university to meet its demands. At the very least, at every UC campus there have been "substantial sympathy demonstrations" for the movement, as the World Socialist Web Site put it.
University officials have indicated a general unwillingness to meet the demands of the students. UC Santa Cruz justified its firing of the protesters by claiming they exhibited an "abandonment and sustained willful dereliction of [their] job responsibilities."
At San Diego, meanwhile, Dean of Undergraduate Education John Moore expressed concern that "if graduate teaching assistants withhold grades, this might disproportionately affect students who may not advocate on their own behalf, including those who are first-generation or belong to other populations traditionally underrepresented in higher education."
The central university office, meanwhile, has criticized the grad students for participating in "unauthorized strike activity," claiming that the activists' refusal to teach classes and turn in grades "harms UC's undergraduate students." The school also pointed out that the graduate students are currently covered by a collective bargaining agreement and that "striking while a collective bargaining agreement is in place undermines the collective bargaining process and erodes the ability of UC and its unions to enter into good-faith labor agreements."
Reached via email, UC Irvine campus spokesman Tom Vasich provided The Fix with a letter sent to the student body by Gillian Hayes, the school's graduate dean, and Willie Banks, the vice chancellor for student affairs. That letter did little to assuage the demands of the protesters, though it did tout the school's commitment to graduate students, including initiatives such as "revolutionary multi-year funding guarantees" and the provision of "graduate student housing that is well below market costs."
"We recognize that the high cost of living in Irvine presents unique financial challenges to students pursuing graduate and professional degrees. UCI remains committed to providing the strongest possible financial support packages for all our graduate students, regardless of whether they serve as TAs," the letter read.
Protests may continue during coronavirus lockdown
The coronavirus pandemic that has spread throughout the country and the world has shuttered much of the University of California system, with the school's campuses essentially going into lockdown, switching to virtual course instruction and emptying the campuses of students and dorm residents.
The Daily Californian reported last week that, at UC Berkeley, strikers have identified a "need to adjust to the new class format." One activist, Frankie Cunningham, told the paper that the activists are looking to continue their efforts unabated. Strikers "will now use new tactics such as refusing to hold online classes, produce any online content or update grades, as well as hosting COLA teach-ins, among others," the paper reported him as saying.
In an email exchange with The College Fix, Cunningham offered more information on the planned strike activities during the university's virtual hiatus.
"Anecdotally, based on conversations that I've had with intercampus strike groups, anyone who was already performing a teaching strike on another campus is being asked to continue withholding their teaching labor despite the switch to online classes."
"However I do not wish to speak on behalf of the UC-wide effort, this is only based on my own personal experiences," he added.
"I will say this – since Berkeley is on semester (grades are submitted in May) all the other UC campuses are on quarter system (winter grades are submitted in a few weeks), a grading strike is, generally speaking, the main focus on the other campuses. A grading strike is more or less unaffected by the switch to online classes," he pointed out.
Cunningham, to whom The Fix had initially reached out at his school email address, added that media outlets should "do [their] best to contact graduate student organizers at their personal emails if you can find them."
"The UC administration is actively monitoring us via our .edu addresses and other communication platforms under their control, and information gained from this surveillance has already been and will continue to be used to justify lawsuits, suspensions, and terminations against striking graduate students," he said.
MORE: UC Santa Cruz fires dozens of striking grad students
MORE: Protests, disruptions escalate at UC following mass graduate student firing
IMAGE: Sundry Photography / Shutterstock.com
Like The College Fix on Facebook / Follow us on Twitter