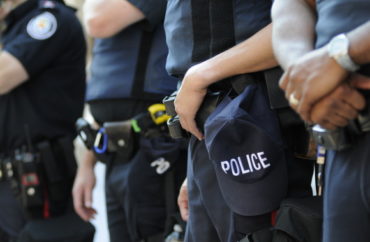 The University of Colorado Boulder Police Department recently pledged to use more inclusive language during emergency alerts and when sending out suspect descriptions.
Officers are scheduled to undergo diversity, equity and inclusion training led by the Office for Justice, Equity, Diversity and Inclusion to learn "more inclusive practices," according to a news release from the university.
"Alerts language revisions are expected to include more accurate, inclusive language around suspect descriptions pertaining to race and ethnicity," it stated. "Only behaviors are considered suspicious –– and not race, ethnicity or perceived gender or religious affiliations."
The "inclusive language training" will include lessons on microaggressions as well as "wording intent versus impact and the importance of taking feedback," stated the July 12 release.
Other topics will include "avoiding offensive jargon, derogatory terms and non-gender neutral language," reported the Daily Camera, a Boulder-based newspaper.
"The goal of the training is to produce more accurate subject descriptions and inclusive emergency alerts. For example, instead of identifying a suspect as having 'dark skin,' the training guides officers to be specific about the identity of the suspect if it's known," the Camera reported.
"If no identity is known, then the training instructs officers not to make assumptions and to focus on other identifying traits, such as type of car driven or color and type of clothing."
Police strive to provide timely, accurate information during emergencies. Now, in an effort to use more inclusive language in emergency alerts, CUPD is expanding its diversity, equity and inclusion training.https://t.co/sXUJZLwDyg

— CU Boulder Police (@CUBoulderPolice) July 14, 2023
The topic of including the race of a suspect in crime alerts has long been controversial in higher ed circles.
The University of Illinois at Chicago stopped providing a suspect's race in January 2021, for example, as an attempt to balance public safety with potential negative stereotypes.
In 2021, Texas State University students expressed anger that a crime alert identified a suspect as black.
"By sending such a vague description to the community and not specifying the exact location of the alleged incident, Black men anywhere on campus at the time were placed in immediate danger," the University Star student newspaper editorial board argued.
Similarly, in 2020, Ohio State students protested public safety alerts that identified suspects as black.
When Carnegie Mellon in 2019 hosted a forum on whether to include race in crime alerts after removing them three years prior, its Police Chief Thomas Ogden argued they are not as helpful as some might think.
"In my 41 years of law enforcement experience, we haven't caught anyone, in my experience, based on a crime alert or a community alert," he said, according to the student newspaper.
MORE: SDSU Black Resource Center miffed at racial descriptions in campus crime reports
IMAGE: Arindam Banerjee / Shutterstock
Like The College Fix on Facebook / Follow us on Twitter