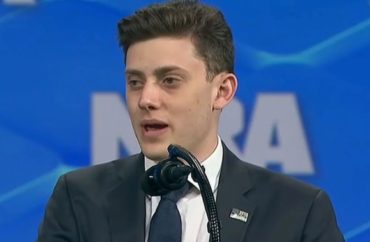 There is not a person in this country who can look back at their 16-year-old self and say, "I have no regrets."
The most influential teacher I've had in my life has been experience. The mistakes of my youth have been lessons that have made me wiser and stronger today. Most can relate to this.
Enter Kyle Kashuv, who during a midnight studying cram session a couple years ago wrote online some very vulgar, racist and disgusting things to his group of friends. He repeatedly used the n-word. He made crass jokes. Reading over what he said made me cringe.
But now, because of those careless and ignorant comments uttered by a careless and ignorant 16-year-old, Harvard University has rescinded its offer to enroll him as a freshman this fall.
Kashuv rose to prominence as a survivor of the Feb. 2018 shooting at Stoneman Douglas High School in Parkland, Florida. He supported gun rights as his peers demanded the opposite.
When he was admitted to Harvard it was no fluke. Despite the tragedy, he managed to graduate second in his class with a weighted grade-point average of 5.345 and a score of 1550 on his SATs. And certainly the fact that 17 of his peers were murdered helped him mature and gain important perspective on the preciousness of all life.
After his comments came to light, Kashuv immediately apologized, saying: "We were 16-year-olds making idiotic comments, using callous and inflammatory language in an effort to be as extreme and shocking as possible. I'm embarrassed by it, but I want to be clear that the comments I made are not indicative of who I am or who I've become in the years since. … I can and will do better moving forward."
Is Kashuv sorry he got caught — or sorry he said such things? Probably both, but that doesn't mean he isn't sincere in asking for forgiveness. He even sent an email to Harvard's Office of Diversity and Inclusion "to seek guidance on how to right this wrong and work with them once I was on campus."
It didn't matter to Harvard gatekeepers, who are more worried about being accused of supporting racism than giving a kid who made a mistake a second chance. They refused to meet with him or reconsider their decision.
It's been said "let he without sin cast the first stone." This is a fitting phrase for Harvard right now. Writing in the Spectator, Daniella Greenbaum Davis points out:
If Harvard is a racist institution, it's not because of its past actions. It's because of its current actions. Look no further than Harvard's unjust, unfair, and implicitly racist treatment of Asian American applicants. Harvard still puts people in racial categories and judges their merit on those categories. That strikes me as far worse, and far more dehumanizing than Kashuv's admittedly disgusting childhood remarks.

The difference between Kashuv and the Harvard administration is that Kashuv has apologized and stopped. Harvard defends and continues its practice. And while Kashuv made those remarks when he was 16 years old, the Harvard administration is made up of seasoned adult cynics who should know better.
Yes, Harvard is hypocritical, not only in its treatment of Asian Americans but also in its suggestion through this decision that the students it has admitted in the class of 2023 have made no mistakes that, if they came to light, would be just as troubling as the one Kashuv made.
In the end, perhaps this is a blessing in disguise. Harvard is not the institution it once was. Kashuv will learn from this experience, too. And hopefully the college he ends up at will be able to serve its purpose of helping a young man continue to grow in wisdom and maturity.
MORE: Left-wing activists shut down Harvard's president 
IMAGE: YouTube screenshot
Like The College Fix on Facebook / Follow us on Twitter