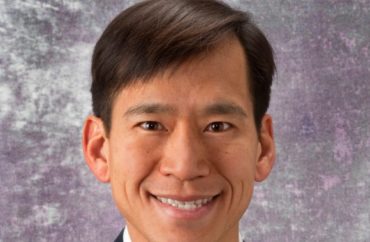 University's comments may show 'systemic discrimination based on race'
The University of Pittsburgh is under federal investigation for allegedly retaliating against a professor for his views and practicing "overtly race-based admission and hiring."
The Department of Education informed Pitt Chancellor Patrick Gallagher in a letter Thursday that Norman Wang may have been "disparately treated" on account of his Asian background as well.
Pitt's affiliated hospital fired Wang from his position as director of a fellowship program this summer, in response to a white paper he published in the Journal of the American Heart Association.
Wang (above) concluded that it would be best to implement race-neutral hiring methods within his field of cardiology. He argued that affirmative action has led to "relatively weak academic starting positions in classes" among black and Hispanic beneficiaries.
The doctor and his work received subsequent backlash from various academic circles, including his University of Pittsburgh Medical Center colleagues. UPMC also asked JAHA to retract Wang's article, which it did. (Wang retained his faculty position, however.)
MORE: First Amendment scholars troubled by Pitt's demotion of Wang
The Department of Education "is concerned Pitt's many representations to students, faculty, and consumers in the market for education credentials regarding its support for academic freedom are false" based on its actions against Wang, Robert King, assistant secretary in the Office of Postsecondary Education, wrote to Gallagher (left).
By "denouncing Dr. Wang's empirical case for race-neutral admission and hiring," Pitt suggests that it's practicing "systemic discrimination based on race" in violation of the Civil Rights Act, King wrote.
This would mean "Pitt's non-discrimination assurances in its Title IV program participation agreements" were false, and the department may impose "monetary penalties" as a result, he continued. The university spent $1.6 billion in Title IV funds in the past five years.
Pitt media relations did not respond to a College Fix query seeking its point-by-point response to the allegations in the letter. UCLA Law Prof. Eugene Volokh, a First Amendment expert who previously frowned on Pitt's action against Wang, did not respond to a query either.
Former Department of Education lawyer Hans Bader, who has called Pitt's action against Wang unconstitutional, nevertheless expressed skepticism that Pitt may have discriminated against Wang by race.
"It is certainly true that black professors who write articles criticizing" affirmative action haven't been removed, he wrote Thursday: The investigation "may not ultimately prove racial discrimination against Professor Wang."
No evidence of 'misquotes and misrepresentations,' as it claimed
King's letter to Gallagher highlights Wang's career achievements, noting he has been published in a host of other notable medical journals, his patients give him high ratings and he has offered "care to the impoverished" in Bolivia, Cambodia and Vietnam.
Yet officials "denounced and terminated him," with Chief of Cardiology Samir Saba telling Wang that his paper "did not align" with UPMC's ideals. Saba failed to share the "misquotes and misrepresentations" that others had accused Wang of making in his paper, according to King.
Pitt School of Medicine Dean Anantha Shekhar also said that Wang's paper "expressed views against equity and inclusivity," and JAHA told readers that UPMC had claimed the paper was full of "misconceptions and misquotes."
King said the department hasn't found any evidence that Pitt has actually substantiated what it claimed to get JAHA to remove the article. The university also apparently neglected to open an investigation under its Research Integrity Policy, which promises faculty that the "mere filing of an allegation" won't provide the basis for discipline or "adverse action."
MORE: Researchers ask for their paper's retraction after conservative cites it
— Pitt Health Sciences (@PittHealthSci) August 6, 2020
He was removed as EP PD as soon as this was known. FTR. I am PD of gen cardiology fellowship at @PittCardiology – will say again: We stand united for diversity equity and inclusion. And denounce this individual's racist beliefs and paper.

— katie berlacher (@KBerlacher) August 3, 2020
The letter accused Pitt of failing to stay true to its own principles on freedom of speech and academic freedom, citing several bylaws and provost statements it may have violated. Instead, a number of Pitt staff members – acting in their official positions – denounced Wang's research and conclusion.
The department will investigate if Pitt has violated laws and regulations on "misrepresentations," including President Trump's 2019 executive order on campus free speech and new department rules on holding colleges to their free-speech promises. King said its representations "were knowingly and intentionally made … to induce students to pay tuition and fees in excess of $34,409, exclusive of room and board."
Statements by "Pitt's authorized officials denouncing Dr. Wang, his research, and his advocacy of race-neutrality suggest Pitt supports and uses a system of overtly race-based preferences in its admissions and hiring at Pitt and UPMC and in other parts of its education program," the letter continues.
It orders the university to turn over all communications about Wang and discussion of his JAHA article from January onward. The university must turn over its evidence, from July onward, that Wang's paper was so faulty that it has no "scientific validity," as it claimed to JAHA.
Pitt also must hand over the past five years of policies on free inquiry and research misconduct, records that back its non-discrimination assurances, and records on its use of race in admission and hiring, in both the university and medical school. The letter specifically asks for records concerning "persons of Asian descent," including for promotion and "discipline."
Shekhar, Saba and other officials who spoke against Wang must give interviews under oath as well in the next month.
Media relations for the Foundation for Individual Rights in Education did not respond to Fix queries Thursday. The American Heart Association provided a statement Tuesday that it wasn't aware of the Department of Education investigation but that it was "not appropriate … to respond to their another [sic] institution's internal matters."
Spokesperson Suzanne Grant said AHA's journals follow "the guidance" of the Committee on Publication Ethics, "and the retraction request as submitted by the institution [UPMC] met those for retraction." She provided its policies on scientific publication and diversity and inclusion.
Grant said the original retraction had been recently updated. The main change appears to be the addition of a "sample of the misconceptions and misquotes identified in correspondence from UPMC," including a quote "taken out of context" and another that was "mischaracterized."
UPDATE: The American Heart Association responded to a query after this article was published. Its response has been incorporated.
MORE: Yale dean of public health defends right to argue for hydroxychloroquine
IMAGE: University of Pittsburgh Medical Center
Like The College Fix on Facebook / Follow us on Twitter