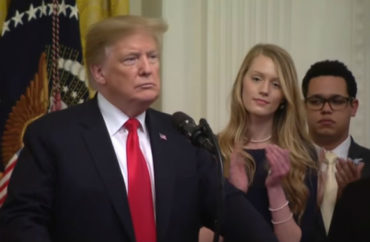 But supporters worried about bureaucracy, 'unintended consequences'
President Trump made good on his promise to the Conservative Political Action Conference earlier this month, signing an executive order Thursday aimed at protecting freedom of speech on college campuses.
The executive order mandates that all public colleges and universities comply with First Amendment protections on "free inquiry" or face the loss of federal research funding.
It directs a dozen federal agencies – from the departments of Defense and Education to the National Science Foundation and NASA – to coordinate with the Office of Management and Budget to ensure that such freedoms are being protected.
It also requires private institutions to comply with their own "stated institutional policies" on free speech. Lawsuits against universities such as Syracuse often claim they are in breach of contract with students who have been censored or punished.
"We're here to take historic action to defend American students and American values," the president said at the signing ceremony at the White House. "They've been under siege."
He blamed "professors and power structures" for "trying to suppress dissent and keep young Americans … from challenging rigid, far-left ideology." Their eagerness to "censor others" stems from their lack of confidence in their own beliefs, Trump said.
MORE: A free-speech crusader's recommendations for Trump's order
The executive order comes at a point of heightened scrutiny on the treatment of conservative students at universities across the country.
The issue received renewed attention last month when Hayden Williams, a field representative for the Leadership Institute, was punched in the face at the University of California-Berkeley while assisting the Turning Point USA chapter with recruitment. Trump invited Williams on stage during his CPAC announcement.
"Free inquiry is an essential feature of our Nation's democracy, and it promotes learning, scientific discovery, and economic prosperity," the executive order reads:
We must encourage institutions to appropriately account for this bedrock principle in their administration of student life and to avoid creating environments that stifle competing perspectives, thereby potentially impeding beneficial research and undermining learning.
MORE: Conservative punched by liberal on campus for promoting conservatism
'Serves a broader goal of attempting to discredit higher education'
Reaction to the executive order poured in following the signing, with even groups largely in agreement with the order fretting about its execution.
The Alliance Defending Freedom "definitely agreed" with the intention of the order, Tyson Langhofer, director of its Center for Academic Freedom, told The College Fix in a phone interview. The center touts its 90 percent success rate in free-speech lawsuits against universities.
"It brings the issue to light" of the "nationwide problem" with campus speech, Langhofer said. But he's concerned about implementation through the intricacies of bureaucracy, given that the order puts the impetus on the Office of Management and Budget to ensure compliance.
The Foundation for Individual Rights in Education said in a press release that the order should be "uncontroversial" insofar as it "asks colleges and universities to meet their existing legal obligations."
"FIRE will watch closely to see if today's action furthers the meaningful, lasting policy changes that FIRE has secured over two decades — or results in unintended consequences that threaten free expression and academic freedom," the civil-liberties group said.
The American Association of University Professors gave an unambiguously negative assessment of the order, calling it "a solution in search of a problem."
It "seems to do little procedurally," the AAUP's press release said, "but is troubling in that it serves a broader goal of attempting to discredit higher education."
The AAUP pointedly called out the president for his comments at Thursday's signing, accusing Trump of seeking to "drive a wedge between students and faculty" by painting his executive order as "a clear message to professors."
A tweet from AAUP included a quote from Tufts University Prof. Gary Goldstein, who declared that it was "generally false" that free speech was under attack on college campuses.
"This is an attack on academic freedom and on efforts to make campuses inclusive and diverse," Goldstein said.
MORE: CPAC full of student stories about campus mistreatment
Trump is set to sign the executive order today. Add your name to the @AAUP's open letter standing against Trump's plan to take executive action on free speech on campus. https://t.co/K24pEwaaIR pic.twitter.com/rmiltqfoaJ

— AAUP (@AAUP) March 21, 2019
Same effect as Obama's Title IX guidance?
Kristan Hawkins, president of Students for Life of America, the largest anti-abortion student organization in the country, declared that "no one needs this executive order more than the Pro-Life Generation."
Hawkins was among those present in the East Room of the White House when the president signed the executive order, according to an SFLA press release.
In a Fox News op-ed Thursday, Hawkins called the "criminalization" of speech on college campuses an "epidemic."
"To protect our Constitutional Democracy," she wrote, "it is vital that we teach the next generation of American leaders that the peaceful expression of opinion is not a nuisance or triggering event, but a fundamental freedom all deserve to enjoy."
John Banzhaf, a professor of public interest law at George Washington University, compared the executive order to President Obama's previous nonbinding directives on Title IX enforcement.
"Although many have wondered" whether the order "would be legal," Banzhaf wrote in an email blast, "it could nevertheless prove to be very effective in changing campus culture."
He noted how a mere guidance letter on Title IX had been enough to scare colleges and universities to upend their practices on sexual-misconduct proceedings, and that Trump's executive order could have a similar effect:
Even the smallest threat to funding, or even the burden, embarrassment, and expense of dealing with an investigation prompted by a complaint, was enough to compel colleges to begin to protect victims of rape. It may be equally effective in protecting free speech.
Additionally, Banzhaf said that "the order might pressure more faculty members to stand up and protest violations of free speech on their own campuses," given that their own research funds would be at risk.
MORE: I called for diversity of thought. My peers compared me to a neo-Nazi.
IMAGE: Fox News/YouTube
Like The College Fix on Facebook / Follow us on Twitter