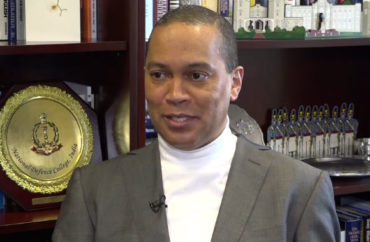 UPDATED
Vote approving resolution 'felt like censorship to me'
Faculty at the nation's largest Catholic university voted Wednesday to condemn the pro-Israel views expressed by a black professor in a recent op-ed for The Federalist.
The DePaul University Faculty Council passed a resolution condemning "the contents of" the article written by Jason Hill, a homosexual Jamaican immigrant and tenured member of the philosophy department, by a vote of 21-10 with amendments, according to The DePaulia.
The pre-vote resolution said Hill "failed to exercise adequate concern for accuracy, restraint, or respect for the opinions of others" in his Federalist article, violating the American Association of University Professors' 1940 statement on academic freedom. "As such, this article represents an abuse of his academic freedom."
Though the council meeting started in the late afternoon, the student newspaper didn't report the tally until late evening. As of Thursday afternoon, it has yet to post the amended resolution approved Wednesday. DePaul media relations has not responded to a request for comment on the vote tally.
"For all practical purposes [the result of the vote] felt like censorship to me," Hill told The College Fix in a phone interview early Thursday. It seems as though the Faculty Council had "no agenda to have a spirit of open inquiry and debate." He did not attend the meeting.
The vote to condemn him sets a dangerous precedent and will have a "damaging impact" on his academic reputation, Hill said, on top of the "slander, harassment, inaccurate accusations and death threats" he had previously received. As a result, Hill said he has "sought legal counsel" and is "exploring my options."
MORE: Hill says forcing students to read Ta-Nehisi Coates is 'child abuse'
Hill has a history of going against the grain of the leftist discourse popularized at contemporary colleges and universities, and he hasn't limited his views to campus.
In 2017 he said liberals benefit from black dependence. Months later Hill called on President Trump to send troops to Chicago, where DePaul is located, to stop black-on-black violence.
Soon after he trained his ire on the academy, calling for America's universities to be "shut down" and drained of taxpayer money because they strongly resemble socialist "propaganda machines."
Universities are at risk of "becoming national security threats" because "scholars in humanities and social sciences increasingly declare that modern argumentation is a white, Western form of domination and linguistic imperialism," Hill wrote for The Hill. "One cannot argue with such people. The only alternative is to shut them down."
In their place, universities should be rebuilt on "individualism, capitalism, Americanism, free speech, self-reliance and the morality of wealth creation," the professor wrote.
Faculty say article 'advocates for war crimes and ethnic cleansing'
In his Federalist article, "The Moral Case For Israel Annexing The West Bank—And Beyond," Hill defended Israel's right to annex the highly contested land "for a plethora of reasons" and emphasized the importance of the United States as a key ally to Israel, especially militarily.
The professor argued at length that Palestinians have "no moral authority" to rule themselves.
Palestinians have "never come into their own as a people largely because they have never explicitly held a philosophy that can support freedom, the basic liberal principles of individual rights, and a free market economy," Hill wrote.
The op-ed also suggested stripping Palestinian-Israeli residents of the right to vote based on their "voting patterns … towards Islamicism and terrorist organizations for the most part":
They constitute a national security threat to Israel because a core feature of their identity is a commitment to destroying Israel as a Jewish state. Therefore, only a policy of radical containment or expulsion remains a viable option.
MORE: DePaul earns 'Lifetime Censorship Award' from civil liberties group
Though the faculty resolution was "not in any formal sense a motion of censure," Faculty Council President Scott Paeth (left) told The DePaulia Tuesday, it was "intended to express our condemnation of the content of what was written in that article."
The resolution text posted by The DePaulia, which does not include approved amendments, cites both the AAUP 1940 statement and DePaul's "Guiding Principles for Speech and Expression."
It emphasizes that the DePaul principles require faculty to "provide a setting in which a broad and diverse range of ideas can be exchanged civilly and respectfully …foster a respectful and inclusive learning environment," and "continuously and actively amplify marginalized voices and … create opportunities for conversations that advance social justice."
Hill's article violated these principles and the university's "Catholic and Vincentian mission" in several ways, according to the resolution:
1) misrepresents the history of the Israeli-Palestinian conflict, 2) distorts the facts about the current state of Israeli-Palestinian relations, 3) promotes racism toward Arabs generally and Palestinians in particular, and 4) advocates for war crimes and ethnic cleansing against the Palestinian populations of the West Bank and the Gaza Strip.
MORE: DePaul bans Ben Shapiro
The resolution "condemns in the strongest possible terms both the tone and content" of the "factually inaccurate" article, which "advocate[s] war crimes and ethnic cleansing, and give[s] voice to racism with respect to the Palestinian populations of the West Bank and Gaza Strip, as well as Arabs generally."
It urges Hill to "seriously reconsider his positions on these issues" and recognize the "real harm his words have caused to students and other members of our community." He should "refrain from abusing his freedom as a scholar in writing on controversial issues in the future."
Although there was talk of the university hosting an open debate on the Israel-Palestine conflict in response to his op-ed, Hill told The Fix he will not attend if he believes his life is in danger.
Leftists on campuses across the country have maintained a "coercive monopoly on the suppression of free speech," and it's no different at DePaul, according to Hill.
His DePaul antagonists have strong "anti-American" and "anti-Isreali" associations philosophically, he said. That said, these ideologies are "tolerated by administrative bodies," and are not subject to any kind of "moral coding" whatsoever.
But his opponents "picked the wrong person" to mess with, Hill said.
'I'm not apologizing' for taking 'a very definitive stance on certain issues'
Before the vote Wednesday, about 3,400 people had signed a Change.org petition against Hill.
Created by Chicago Area Peace Action DePaul, the petition demands that the administration "censure Professor Hill for his heinous statements against marginalized communities."
His comments "create unsafe and uncomfortable spaces for everyone, especially Palestinian and Muslim students who now all refuse to enroll in a class" that he teaches.
DePaul is out of step with its "Vincentian values of social justice, service,  and community" as long as it lets Hill speak his mind without sanction, the petition claims. "We are not only seeking censure, but for Professor Hill to commit to racial sensitivity training and to release a public apology for his immoral conduct," it says.
According to The DePaulia, the DePaul chapters of Students for Justice in Palestine, United Muslims Moving Ahead, DePaul Socialists, Students Against Incarceration, College Democrats and Lambdas issued a substantially similar statement against Hill.
MORE: Dozens of layoffs at DePaul as enrollment plunges
In response to the demands, Hill told CNSNews.com "I'm not attending a [racial] sensitivity workshop [and] I'm not apologizing." He said that students taking offense at his words "is not a criteria for shutting down free speech."
Asked why so many students were demanding that the university publicly condemn his rhetoric, the philosopher was unphased: "I'm not a wishy-washy academic. I take a very definitive stance on certain issues."
He told Inside Higher Ed the student petition violates "my academic freedom" by using the students' "subjective criterion for offensiveness" to shut down his speech. "Free speech includes the right to offend."
While many student groups made strides to condemn Hill, one outlier was DePaul's College Republicans chapter.
The student organization released a statement supporting Hill's "right to free speech" and applauding Esteban for his "commitment to academic freedom" on campus. DePaul's Young Americans for Freedom and Turning Point USA chapters also signed the statement.
Although DePaul has denied any intention to comply with student demands against Hill, President A. Gabriel Esteban emailed the student body last week stating that Hill's views are only his own, according to CNSNews.com.
"The university will not censure Professor Hill for making unpopular statements," Esteban said. Both faculty and students "share academic freedom, guaranteed to them by their membership in the university community" and free speech guaranteed by the First Amendment, he said:
DePaul will ensure that all faculty and students are empowered to exercise these rights, and DePaul will provide an appropriate environment where ideas can be exchanged freely in an atmosphere of safety for all. Arrangements are underway to provide a forum for such an exchange of ideas and opinions on Middle Eastern politics.
UPDATE: The Fix interviewed Hill after this article was published. Portions of his interview have been added. The DePaulia also corrected its initial reporting to confirm that the resolution did not condemn Hill personally, but only the views he expressed in the article. The Fix has in turn corrected its description of the resolution.
MORE: DePaul protects protesters who crash Milo Yiannopoulos event
IMAGE: Tea Partier/YouTube
Like The College Fix on Facebook / Follow us on Twitter