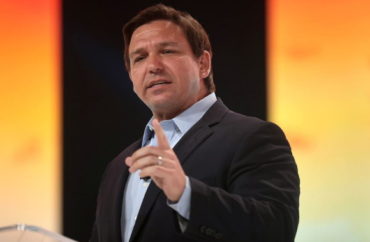 Florida Gov. Ron DeSantis is asking public universities to hand over information on how they medically treat students seeking sex-reassignment.
"Chris Spencer, director of the governor's Office of Planning and Budget, sent a memo last week requiring that universities answer a lengthy list of questions about issues including numbers of people who sought 'sex-reassignment treatment,' numbers of people prescribed such things as hormones and puberty blockers and numbers of people who underwent surgical treatments such as mastectomies," Politico reported.
The move comes on the heels of another request of the Republican governor's office from December asking Florida public universities for information on how much they spend on critical race theory and "diversity, equity, and inclusion." A judge ruled Jan. 11 that campus leaders must comply with the request.
The two requests, once compiled, will paint a picture of how much Florida taxpayers are spending to support controversial curricula and policies.
The DeSantis administration seeks the sex-reassignment data dating back to Jan. 1, 2018 and it is due Feb. 10, CBS reported.
The governor has not stated explicitly why he wants the information.
Politico reported the administration said it involves "governing institutional resources and protecting the public interest."
House Democratic leader Fentrice Driskell told the Associated Press "We can see cuts in funding for universities to treat students with this condition, and I think an all-out elimination of services is certainly on the table. … It's a really terrifying place that we're at in Florida history."
Underscoring the demands from the governor for the accountings, the 28 campus presidents of the Florida College System on Wednesday announced a ban on anything that "compels belief in critical race theory."
"[O]ur institutions will not fund or support any institutional practice, policy, or academic requirement that compels belief in critical race theory or related concepts such as intersectionality, or the idea that systems of oppression should be the primary lens through which teaching and learning are analyzed and/or improved upon," the announcement stated.
As leader of the Sunshine State, DeSantis appears to be making higher education reform one of his priorities.
On Jan. 6, he announced the appointment of several scholars known as prominent critical race theory opponents to the New College of Florida in an attempt to enforce reform at the left-leaning school.
James Uthmeier, chief of staff for DeSantis, told National Review "It is our hope that New College of Florida will become Florida's classical college, more along the lines of a Hillsdale of the South."
MORE: DeSantis launches new strategy to battle DEI as courts rebuke Stop WOKE Act
IMAGE: Gage Skidmore / Wikimedia Commons
Like The College Fix on Facebook / Follow us on Twitter