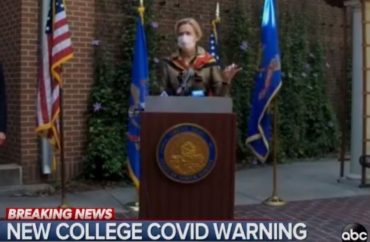 Remember when all of the country's college students were shipped home in March and April as the coronavirus panic hit? Yeah, well, apparently that was a horrible idea.
It turns out it probably helped spread the disease faster and farther.
ABC World News Tonight reported Sunday that White House coronavirus task force coordinator Dr. Deborah Birx now advises college students not to return home if they test positive for COVID.
"Please isolate at your college," Birx said at a news conference. "Do not return home if you're positive and spread the virus to your family, your aunts, your uncles, your grandparents."
The advice echoes some of the arguments made last spring by people with common sense who pointed out colleges are the best place for young people to stay to help protect those most vulnerable.
Sending them home, as Birx now admits, only helps spread it to grandpop and nana, who have a much higher chance of facing complications from the virus than their 20-year-old grandchild.
NEW COLLEGE COVID WARNING: As coronavirus cases top 25 million worldwide, @TrevorLAult reports on the new warning from Dr. Deborah Birx as college students return to campus and COVID-19 clusters emerge. https://t.co/mP1XIHthUp pic.twitter.com/Ucaqsh4YKy

— World News Tonight (@ABCWorldNews) August 31, 2020
But the growing consensus of "experts" also now echo Birx as colleges engage in mass testing. Bloomberg reports:
It's easier to isolate sick or exposed students and trace their contacts if they stay put, said Ravina Kullar, epidemiologist and spokesperson for Infectious Diseases Society of America. Sending students home risks exposing other people there as well as along the way, and makes contact tracing all but impossible.

"There's just inevitably going to be an outbreak," she said. "Colleges need to take on the burden of having these students kept at their campus and taking care of them."
But for some campuses, the advice comes too late, Bloomberg adds:
The University of North Carolina at Chapel Hill was one of the first to reverse in-person learning, sending students home to complete the semester remotely after the school had an outbreak. Colleges including Towson University and East Carolina University have done the same.
The latest advice also underscores another argument for keeping students on campus — one made back in July.
Explaining why they are reopening, Cornell University's top leaders explained campus is safer for young people because Cornell plans to institute a variety of safety measures that these students would not otherwise be subjected to if left to their own devices.
MORE: Pitt School of Medicine tells media: Stop hyping COVID case counts
Like The College Fix on Facebook / Follow us on Twitter