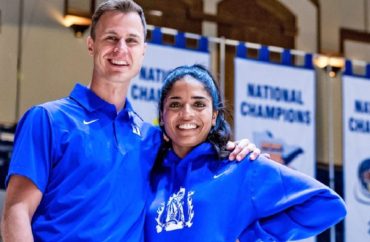 First general manager hired to drum up business for players
The Duke men's basketball team will now have some help winning endorsement deals thanks to a recent hire by the new head coach.
The private North Carolina university hired Rachel Baker (pictured) to be the first ever general manager for the team.
The former Nike executive "will specialize in helping players enhance their personal and professional skill sets, capitalize on strategic partnerships, including NIL opportunities," according to the university's statement. "NIL opportunities" refers to name, image and likeness endorsement deals that have become more available after the Supreme Court struck down the NCAA's prohibition against them in 2021.
A law professor at the University of New Hampshire told The College Fix that he expects more universities will hire people specifically to assist in landing endorsement deals.
"We've seen a number of universities hire NIL coordinators or positions with similar titles to assist their athletic programs and athletes," Professor Michael McCann told The Fix. "I suspect we'll see that trend continue as the NIL market grows."
Baker alluded to the changes in NIL laws in her statement.
"We're in the middle of such a transformative moment — not only for Duke, but for the college basketball landscape — and the chance to be part of it is the opportunity of a lifetime," she stated in the news release.
"Duke Basketball has remained rooted in honoring our storied history while writing the future of the game," she stated. "I am humbled and honored to join this tradition and can't wait to get started."
The team this season will be led by former Duke standout Jon Scheyer (pictured), who replaced head coach Mike Krzyzewski.
"The state of college basketball is growing and changing at an exponential rate," Scheyer stated in the news release.
The Fix contacted Michael DeGeorge, a spokesperson for Duke Athletics, to ask about current endorsement deals and if a general manager would help with recruiting. He did not respond to an inquiry sent two weeks ago.
A spokesperson for Opendorse, which helps athletes find sponsorship deals, promised to provide comment by June 21 on Duke's general manager and what the NIL landscape looks like for the future.
However, Elizabeth Wyman did not respond with comments.
Athletes need education on benefits, consequences law professor says
The growth in endorsement opportunities has led to some confusion over how it affects foreign students and also prompted one booster to offer $1 million to an athlete to transfer.
Last year, after the Supreme Court ruling, a Marquette law professor said universities should educate athletes about the benefits and consequences of deals.
Professor Matthew Mitten, director of the Catholic university's Sports Law Institute, told The Fix school officials should "educate athletes now about a variety of things, including that the income received from NIL rights is taxable."
College athletes, he told The Fix," should be cautioned against providing perpetual NIL rights or exclusive rights to licensees unless the athlete is receiving substantial compensation."
MORE: DeSantis declares UVA swimmer 'rightful winner,' not Lia Thomas
IMAGE: Duke University
Like The College Fix on Facebook / Follow us on Twitter