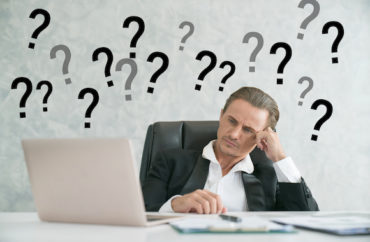 One of the things I always kept in the back of my mind during my teaching days was that I worked for the taxpayers, i.e. parents.
Not to mention, I knew it was never my job to usurp parents' roles and responsibilities, and if a mom or dad had any questions or concerns, it was my job to address them as promptly and as courteously as possible.
Did I ever encounter parents who were mean, unrealistic and irrational? Of course. Did I always act prim, proper and rationally? Of course not. But such instances were (and, I hope, for most teachers) few and far between.
Many years ago I wanted to show a film about a pair of illegal immigrants from Guatemala who made it to Los Angeles (titled El Norte, if you're wondering). The film is rated R for occasional profanity (99 percent of which has to be read in subtitles), and I explained this to my principal. He thought the film fit in perfectly with my curriculum, but told me to send a permission slip home to parents.
Shortly thereafter I received a letter from a parent chastising me harshly for even considering an R-rated film. However, after I phoned her and (re)explained everything I had written in the permission slip — not to mention informing her I shared many of her expressed values and that I'm essentially her employee — she ended up apologizing for the tone of the letter and was very thankful that I called. (She still did not allow her son to watch the movie, but that was her right!)
Again: It's not a teacher's job to play parent, or to act as if your mores are superior to those of parents.
Unfortunately, many contemporary educators don't share this view. For example, a "founding member" of Philadelphia's Science Leadership Academy took to Twitter this weekend to express concern over how "helicopter/snowplow" parents — especially those who are conservative — could affect virtual instruction this fall, notably in the realm of race, gender and sexuality.
Matthew Kay, apparently a budding Robin DiAngelo and Ibram Kendi, wonders how he and others like him will be able to do "the messy work of destabilizing a kids [sic] racism" if parents are eavesdropping: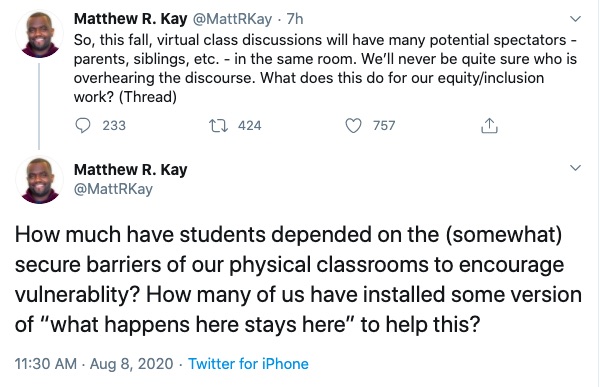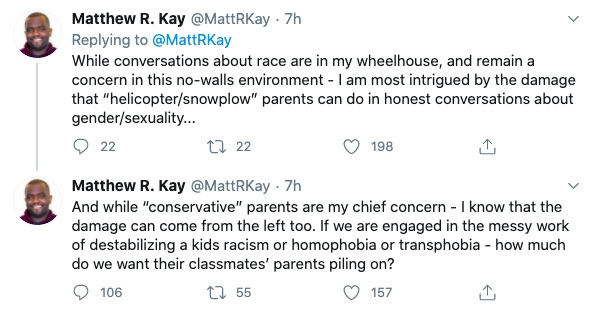 One of Kay's respondents took it a step further, saying she won't broach such topics because parents are "dangerous":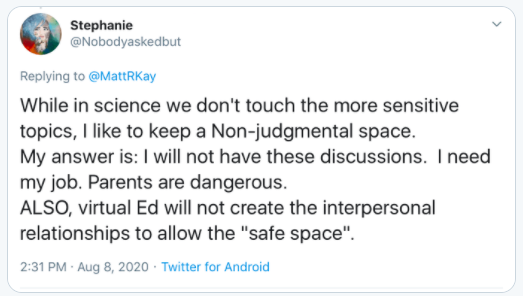 Where to start? First, schools like a Science Leadership Academy shouldn't be teaching about race and racism in the first place, most especially from the perspective of modern "experts."
Second, teachers and other school staff shouldn't worry about hiding anything from parents unless there's a potentially (physically) abusive situation involved. That any accomplished educator would ponder "what happens here stays here," especially on social media, is rather worrisome.
Ironically, when you think about it, one and two demonstrate just how ridiculously shallow academic race trainings and discussions truly are. If they're so informative and mainstream, why don't teachers, administrators and entire school districts routinely invite parents (and the general public) to attend whenever they're available?
MORE: How to make big bucks: Run a white guilt workshop
MORE: Social justice program says teachers should 'reject and resist' parents
IMAGES: lOvE lOvE / Shutterstock.com, Twitter screencaps
Like The College Fix on Facebook / Follow us on Twitter