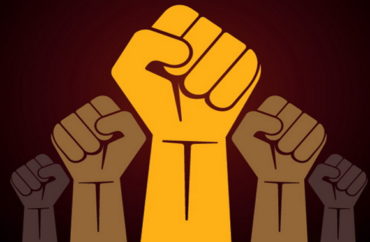 UPDATED
Syracuse University put over 30 students on "interim suspension" early Tuesday morning due to their occupation of an administrative building.
The students, representing #NotAgainSU, refused to leave Crouse-Hinds Hall on Monday at its closing time of 9pm. The sit-in was part of #NotAgainSU's continuing demonstrations against "hate crimes and bias incidents" on the Syracuse campus, The Daily Orange reports.
A temporary "interim suspension" means "the safety and well-being of the University community or specific persons [were] at risk." A Department of Public Safety officer announced the suspensions via letters handed to students at 12:50am. The letter notes, however, that no decision has yet been made "about the protesters' culpability in refusing to leave."
In the last few months, Syracuse activists have demanded everything from the right to deny a roommate based on his/her race, to more counselors, multicultural offices, and a mandatory "unified" curriculum on anti-racism. An interim provost even suggested a greater selection of Chinese food offerings could be part of the solution to bias incidents.
Chief Diversity and Inclusion Officer Keith Alford, [Senior Associate Vice President of the Student Experience Rob] Hradsky and [Associate Vice President Marianne] Thomson have been in constant communication with #NotAgainSU, Scalese said. The university told the protesters that they were welcome to demonstrate in Crouse-Hinds during its hours of operation, from 7 a.m. to 9 p.m., she said.

"The student demonstrators were invited to continue their peaceful protests through the evening in Bird Library, which is open 24 hours, and return to Crouse Hinds Hall in the morning," [Senior Associate Vice President for University Communications Sarah] Scalese said. "They declined that invitation."

Several organizers left the building as of 9:15 p.m., carrying blankets to the outside of Crouse-Hinds. They stood in the 27-degree weather on a patch of grass. Wrapping themselves in their blankets, they considered camping outside overnight.

"It's round two," an organizer outside the building said.

#NotAgainSU called for students to support the organizers inside via the movement's Instagram story. About 35 students stood outside as of 10:45 p.m.
The occupiers had to stick it out with only a diet of "chips and snack food" after being told that food from outside would not be permitted after 11pm. As a result, students began chanting "Let food in!"
UPDATE: The student suspension "interim" lasted a whole 15 hours. The Daily Orange's Sam Ogozalek tweeted around 4pm on Wednesday that Syracuse President Kent Syverud ordered the suspensions lifted:
Syverud: "These students are afraid they will be arrested … they have suspension dangling over them. Enough. I am not going to let students be arrested and forced out of Crouse-Hinds Hall."

— Sam Ogozalek (@SamOgozalek) February 19, 2020
Professor Biko Gray, Ogozalek also notes, was seen crying and stating "those are my babies in there" (referring to the demonstrators). Biko inquired "how SU could preach a false Gospel of diversity while simultaneously doing what it has done at Crouse-Hinds."
Previously, Gray has claimed that hateful graffiti could "incite physical violence" against students, and that anti-Asian slurs turned a dormitory "into a space of sheer terror." He and a Syracuse colleague published a letter on behalf of over 100 faculty members calling for a required core curriculum "attuned to issues of difference and diversity."
MORE: Syracuse faculty want more diversity courses following 'hate' incidents
MORE: Syracuse: Alleged white supremacist manifesto 'probably a hoax'
IMAGE: VectorArt / Shutterstock.com
Like The College Fix on Facebook / Follow us on Twitter