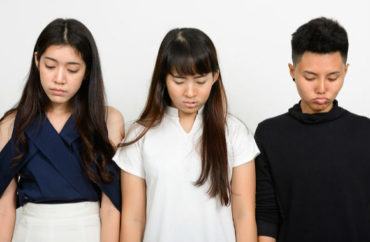 Justice Department since April, Education Department now
Elite universities have a big problem: too many qualified applicants of Asian descent.
How do they solve it? "Holistic" admissions.
How long can they get away with it? Not as long as they thought.
The Trump administration opened its second investigation into an Ivy League school's admissions practices to see whether it discriminates against Asian-American applicants.
More than two years after it filed a complaint against Yale University, Brown University and Dartmouth College, the Asian American Coalition for Education was notified by the Department of Education's Office for Civil Rights that it's investigating Yale.
In a Wednesday letter shared with The College Fix, Enforcement Director Lisa Chang said her department had asked the coalition for more information about its claims a year and a half ago.
Based on further details, OCR determined it has jurisdiction over the Yale complaint owing to "a particular Asian-American applicant's experience" applying to that school. It will investigate whether Yale treated this applicant and other Asian-American applicants differently based on their race.
MORE: Economists approve statistical model that finds Harvard discriminates
The letter also disclosed that OCR's counterpart at the Department of Justice has been investigating the same issue at Yale since April.
Chang said the allegations against Brown and Dartmouth were too vague and "conclusory" for OCR to "infer that discrimination may have occurred or is occuring" at those Ivy League schools.
In an email blast late Wednesday, the Asian American Coalition for Education denounced Yale and other elite schools for refusing to "abandon their discriminatory admissions practices modeled after Harvard," even as "mounting evidence" shows the breadth of Harvard's discrimination:
[C]ompelling evidence indicates that Yale University and many other selective colleges in the U.S. fail to comply with [the Civil Rights Act and relevant Supreme Court precedent]. On the contrary, they have applied de facto racial quotas, racial stereotypes and higher admissions standards to discriminate against Asian American applicants. …

Instead, they jointly filed an Amicus Brief on July 30, 2018 supporting Harvard's anti-Asian discrimination under a convenient pretense of diversity. Yale's action indicates that only vigorous enforcement of laws by the federal government can deter Yale and other selective colleges from infringing upon Asian American children's civil rights.
The Trump administration opened an investigation into Harvard's practices with regard to Asian-American applicants a year ago, and earlier this summer rescinded its predecessor's racial-balancing guidelines. The Obama administration had also opted out of investigating Harvard, citing ongoing litigation against the school.
The Harvard lawsuit by Students for Fair Admissions is barreling toward trial next month. Last month the Justice Department urged a federal judge not to dismiss the case, saying Harvard "finance[s] the evil of private prejudice" with taxpayer dollars through its "unlawful racial balancing."
MORE: Harvard mad at Trump administration for calling it 'evil,' racist
MORE: Ivies ignore Trump rescission of Obama racial-balancing guidelines
IMAGE: Ranta Images/Shutterstock
Like The College Fix on Facebook / Follow us on Twitter