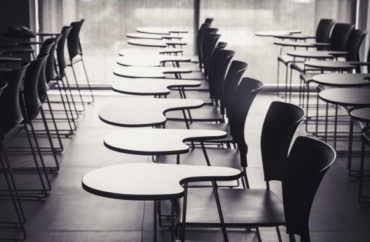 In the wake of coronavirus, 'colleges may face a loss of up to 20 percent in fall enrollment,' surveys find 
Survey after survey indicates fall enrollment at colleges and universities nationwide this fall will take some sort of hit because of coronavirus.
Polls taken in March and April of high school seniors and current college students find that students feel trepidatious about heading off to campus come August and September. Some will skip college for now. Others will transfer to campuses closer to home. Some families just can't afford it anymore.
The latest survey comes from College Pulse, which administered an online poll to some 1,500 undergrads at the end of April. It found nearly 1 in 10 will change their plans for the fall semester due to coronavirus. "While 3 percent plan on transferring to another school, another 3 percent say they won't enroll anywhere," the company reported.
Many students are waiting to see whether their campus reopens, College Pulse notes.
"If they announce online, I'm taking the semester off and working full time. I am not paying $15K for ZoomU," one University of Minnesota student told the company.
That response seems to support another survey taken by OneClass which found that one-third of college students don't expect to return to campus this fall if classes are all online.
In late April, OneClass polled 1,038 students from 25 colleges and universities across the U.S. asking: "Do you plan to withdraw from your current school if they only offer a remote/e-learning option for Fall 2020?"
Almost 35 percent of students responded yes, they plan to withdraw from their current college or university if they only offer a remote learning option, reports OneClass.
"The question of cost has become a concern for students and parents feeling shortchanged by losing their live college experience," stated Brandon Kazimer, a OneClass representative.
There are similar sentiments found among the high school class of 2020.
A survey conducted by the higher education consulting firm Art & Science Group found that one in six high-school seniors who expected to attend a four-year college full-time before the pandemic now say they will choose a different path.
The national survey of nearly 500 high school seniors taken in mid-March also found that two-thirds of graduating seniors worry they will have to change their first choice school, taking into account issues such as cost and how far away from home it is.
"If this phenomenon continues — or worsens, which it could well do — it will have far reaching consequences on college enrollment this fall and potentially have a substantial impact on higher education for years to come," according to the consultants in their report on the survey results.
Inside Higher Ed reports that "colleges may face a loss of up to 20 percent in fall enrollment," citing surveys by SimpsonScarborough, a higher education research and marketing company.
"Some colleges will fare better, the SimpsonScarborough report says, based on prestige or location or particularly sensitive administrators. But as a whole, 'the effect on higher education enrollment could be catastrophic,'" Inside Higher Ed reports.
Complicating matters, MarketWatch reports that there is "widespread fear that an economic downturn will leave many Americans unable to afford tuition, and universities are forecasting steep drop-offs among international students who may think twice about studying abroad so soon after a pandemic."
The message is getting out to university leaders. Many have already announced plans to reopen this fall with health safety measures in place. Others are doing what they can to attract students.
An article April 23 in the Washington Post is headlined: "Desperate for fall enrollees, colleges are luring students with campus perks and cold cash."
"The more they worry about whether students in this year of the coronavirus will show up in the fall, the more admissions officers responsible for filling seats at colleges and universities have started sounding like the salesmen on late-night TV infomercials," the newspaper reported.
MORE: Universities grapple with admissions uncertainty
IMAGE: VTT Studio / Shutterstock
Like The College Fix on Facebook / Follow us on Twitter