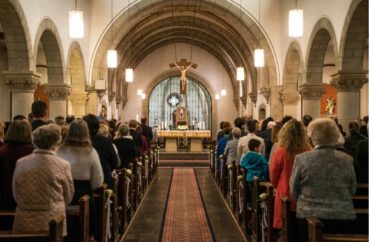 CDC won't provide any specific examples, studies
The closure of churches by governors and public health officials during the beginning of the COVID outbreak sparked protests, criticisms and even Supreme Court cases.
But were churches even sources of so-called "superspreader" events, where one event can lead to numerous COVID infections?
After a South Korean church had an outbreak of COVID-19 in February 2020, houses of worship quickly acquired a suspicious eye for their potential to spread the coronavirus.
Multiple media outlets reported on the dangers of "superspreader" gatherings and the CDC released a statement to communities of faith giving guidance to avoid exposure to COVID-19.
The College Fix contacted 13 professors and researchers of medicine, public health, infectious diseases and epidemiology to see what studies they could point to in either direction, and of the respondents many were skeptical of the claims that churches would be centers of significant COVID spread.
Some who made public comments to the media about the necessity of shutting down churches did not respond to multiple requests for comment on sources for their claims.
Some of them publicly argued for restrictions on church services, but did not respond to requests for comment for the research behind their statements nor do they appear to have conducted any research on the topic. Others gave examples of choir practices to support their claim.
MORE: University ignores its own study on minimal classroom COVID transmission
"It's very challenging. I recognize people's right to gather for worship, but I don't view the public health restrictions as a restriction on religious freedom," Hofstra University Professor Eric Cioe-Pena told Healthline after the Supreme Court ruled against California's worship restrictions. He said "we need houses of worship to [connect in different ways]."
The Fix tried calling Cioe-Pena four times but never was able to get through to him. He has five citations on PubMed.gov but none are epidemiological studies that look at transmission in churches. He is a practicing emergency medicine doctor.
Joseph Allen, a professor of public health at Harvard University, did not respond to multiple emailed requests from The College Fix. In May 2020 he cited a choir practice in Skagit County, Washington as proof of why gatherings needed to be limited indoors.
However, that practice was inside a church but not part of a church service.
Lea Hamner, communicable disease & epidemiology lead at Skagit County Public Health department and coauthor of the case study, clarified in an email to The Fix that choir practice "was not a church event. This is a community choir that rented practice space at a church."
She added that the group was "very vigilant regarding COVID recommendations that existed at the time (March 10)." "We certainly think singing could have played a causal role in the extent that so many people were infected with COVID at that practice," Hamner said in an email to The Fix.
The choir practice outbreak was cited by George Rutherford, a professor of epidemiology and director of the Prevention and Public Health Group at the University of California, San Francisco. His comments were cited in a federal court case against Governor Gavin Newsom's COVID restrictions.
Rutherford pointed The Fix to the choir practice study as an example of research that backed up his opinion.
University researcher, healthcare law professor skeptical of superspreader terminology
"I do not think that in general churches can be given the status of superspreaders," Helene Voeten, a senior researcher at Municipal Public Health Service Rotterdam-Rijnmond, Netherlands, told The Fix in an email.
Likewise, Emma Cave, a professor of healthcare law at Durham University, informed The College Fix in an email that misuse of the word may "potentially lead to avoidance of institutions and events that have been mis-labelled."
When The Fix reached out to the CDC asking whether it could point out any studies suggesting that churches are superspreaders, it did not directly respond to the question. Rather, the unsigned email pointed to general CDC considerations for communities of faith and other CDC resources to prevent the spread of the coronavirus.
Cave published a peer-reviewed article in May 2020 detailing how the vague definition of the word "superspreader" can be "problematic" and lead to undeserved "moral blame to alleged superspreaders." Moreover, "it can detract from scientific investigation" of the diversity of COVID-19 transmission.
MORE: Media unfairly stokes fear of superspreader conservative events
She gave three global examples of alleged superspreaders of COVID-19, wherein many media outlets were quick to label them "superspreaders" — "whether or not the host was aware of the risks they posed to others or the repercussions their infection could have. These factors were not always reflected in media reports."
Cave called the word superspreader a "term of art" that has been used to "describe settings, events, and individuals." While it makes for "an exciting headline," its use in social media often "lacks a scientific basis."
She concluded that the definition is too broad to be meaningful and too misused in some social media sites to the point of bearing negative connotations. She suggested the development of an alternative or a clearer use of the phrase.
While she doesn't believe there is any paranoia surrounding the phrase, if the term "superspreader" is misapplied, "then it could potentially lead to avoidance of institutions and events that have been mis-labelled," Cave told The Fix.
"I certainly wouldn't apply the label of "superspreader" to churches generally. I prefer talk of superspreading events to broad brush labels of superspreader institutions and the moral blame that carries," she said. Whether churches are superspreaders depends on "their particular activities and the safety precautions taken."
Infectious disease professor points to another choir practice 
William Schaffner, a professor of infectious diseases at the Vanderbilt University Medical Center, maintains that whether any gathering of people has a religious purpose, indoor, close-contact environments pose an increased risk of COVID-19 transmission.
"There have been a number of outbreaks, so-called 'superspreader' events, that have been associated with religious gatherings," he told The Fix in a phone interview. He pointed to the "notorious" South Korean church outbreak where the "very conservative" and "very large" congregation was attended by "a person who knew that they had COVID, and there was a large outbreak that came as a consequence."
Asked for any studies relied upon in making his claims, Schaffner pointed to the CDC's "Morbidity and Mortality Weekly Report."
Among the articles included in the MMWR reports from 2020 to the present, only one study from May 2020 explicitly examined church-centered events.
The researchers looked at an outbreak following a church service, bible study, singing and other events associated with an Arkansas church in March 2020. It resulted in 35 out of 92 attendees developing COVID-19 and three deaths. An additional 26 cases and one fatality were linked to the church outbreak during contact tracing. The word "superspreader" is not used in the article.
Melissa Bowers, a public affairs specialist, responded to an inquiry for the researchers of the paper. She said via email that the Arkansas incident "was one of the first large transmission events in the country, preceding the presidential declaration of a national emergency on March 13."
She added that a causal or correlative relationship between singing and transmission cannot be inferred from the paper, as it did not specifically evaluate singing as a mode of transmission.
Additionally, she clarified that the church "was not in violation of any of the rules or guidance at the time, because those didn't exist."
MORE: School reopenings only minimally contribute to COVID spread
IMAGE: CL Medien / Shutterstock.com
Like The College Fix on Facebook / Follow us on Twitter