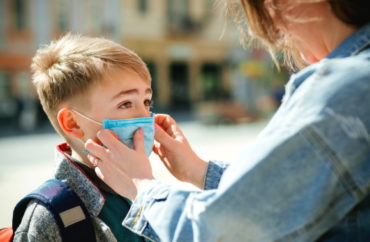 School closures should be last resort
A new study from researchers affiliated with the University of Toronto found that school reopenings contributed only minimally to the spread of COVID. The researchers said that school closures should only be a last resort in addressing potential COVID spread.
The team, which included Professor David Naimark, a public health professor at the University of Toronto, created a model that involved a "synthetic population" to estimate the role school reopenings played in COVID. Naimark is also a medical doctor.
The paper, published in the American Medical Association's JAMA Network Open on March 31, said that "school closure was associated with a small change in estimated COVID-19 incidence trajectories and cumulative case counts."
"These findings suggest that community-based interventions to reduce COVID-19 case counts should take precedence over school closures," the researchers said.
MORE: University of Illinois expels remote student for not getting COVID tested
The paper used a "synthetic population of 1,000,000 individuals based on the characteristics of the population of Ontario, Canada."
The paper said that, among the 1 million individuals, "the percentage of infections among students and teachers acquired within schools was less than 5% across modeled scenarios."
The research team, which also included Sharmistha Mishra and Beate Sander, both public health professors at the University of Toronto, said that community spread played a larger role in COVID infections. Mishra is a medical doctor and Sander is a registered nurse and health economist.
They found "most COVID-19 cases in schools were due to acquisition in the community rather than transmission within schools" and "the changes in COVID-19 case numbers associated with school reopenings were relatively small compared with the changes associated with community-based nonpharmaceutical interventions."
Nonpharmaceutical interventions include social distancing rules and mask mandates.
Further evidence that school closures were a bad idea
The simulation modeling is another paper that shows that school closures were not scientifically sound.
An August 2020 paper from University of Vermont medical school professors concluded, after looking at existing research on the topic, that "children are not significant drivers of the COVID-19 pandemic."
Swiss researchers also concluded that children are not "a major vector" of COVID transmission and a Centers for Disease Control and Prevention study of 17 rural Wisconsin schools reached a similar conclusion.
"With masking requirements and student cohorting, transmission risk within schools appeared low, suggesting that schools might be able to safely open with appropriate mitigation efforts in place," the CDC study said.
A collaborative effort between Harvard and Brown University also concluded that community COVID rates were not a significant predictor of transmission in local schools.
MORE: I've test negative for COVID 17 times. I'm still forced to isolate, wear a mask
IMAGE: Volurol/Shutterstock
Like The College Fix on Facebook / Follow us on Twitter