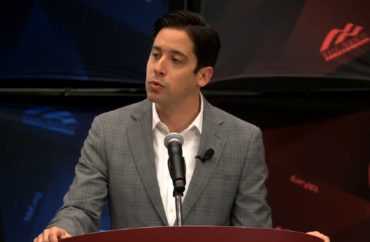 'The purpose of education is to inculcate the truth'
The ongoing problem of leftist students disrupting conservative speech and shutting down views they oppose can be fixed, but it will take political action, according to Michael Knowles, a commentator with the Daily Wire.
Knowles spoke with The College Fix via a phone interview on Tuesday ahead of a speech Thursday at Purdue University, where at least two protests are currently planned.
"The fix has to be legislative, ultimately," Knowles said. "It gets wonderful when the administration willingly or unwillingly permit us to give our talks, however, if the students who disrupt these talks, who engage in violence sometimes, are not punished, if the administrators who encourage these disruptions are not fire, you're only going to see more of it."
The Fix asked about examples in the past year, including violence at a Turning Point USA event at the University of California Davis and the disruption at the Stanford University speech with U.S. Court of Appeals for the Fifth Circuit Judge Kyle Duncan.
Knowles said the "culture" on campus will remain in "disorder and falsehood" if action is not taken to stop the disruptions. "We as conservatives ought to become more comfortable wielding political power," Knowles said.
He said that if administrators do not support "good, true and beautiful ideas," then those officials should be fired. He said students should similarly face consequences for disruptions.
The conservative commentator and author told The Fix that conservatives should not automatically buy into arguments about academic freedom, noting that William Buckley's "God and Man at Yale," a cornerstone of the conservative movement, was subtitled "The superstitions of 'academic freedom.'"
"Conservatives need to go further than shallow platitudes about an academic freedom in the abstract that has not and cannot exist in practice," Knowles said.
"The purpose of education is to inculcate the truth. We have to be able to identify the truth, and articulate the truth and enforce the truth as a matter of education policy," Knowles told The Fix.
Knowles said that it is a positive development that there is a "great increase" in apprenticeships and a decrease in college enrollment.
"Humanity is wonderfully diverse and there is not a one size fits all prescription for the education of every single person," he said. "When we try to insist on a one size fits all model for education, it damages students and it damages the educational institutions."
He said this leads to "frustrated" students, lower standards and debt-riddled graduates.
"We should go further and conservatives ought to promote through the culture and through the law, educational alternatives for people," Knowles said.
He said that the idea of "college for all" must end if there is any hope of restoring liberal education.
MORE: Stanford needs to expel the disruptors and fire the DEI staff
IMAGE: YAF/YouTube
Like The College Fix on Facebook / Follow us on Twitter