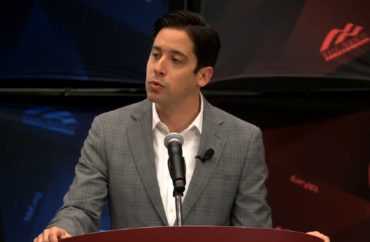 UPDATED
Actions are at odds with the university's expressed support for free speech
Young America's Foundation threatened legal action against Purdue University after officials have reportedly tried to block Daily Wire commentator Michael Knowles from coming to campus next week, March 23.
A letter on Wednesday from Alliance Defending Freedom on behalf of YAF questioned why Purdue officials have told the College Republicans chapter that it cannot advertise for the Knowles event, since a contract has been approved since last February. The university has known about the event since early December, the legal letter stated.
After publication of this article, Purdue approved the event.
The letter noted that Purdue has a reputation for supporting free speech, yet the actions of administrators have called that into question. Officials waited until last week to "reveal a long laundry list of roadblocks" before students could advertise the event. They are also trying to get Purdue University College Republicans to pay for the security fees, even though that responsibility is on the university.
The Foundation for Individual Rights and Expression ranked the public Indiana university third for its support for free speech.
YAF wrote on its blog:
The university is also trying to evade its contractual obligation to pay for all costs associated with event security.

In an attempt to clarify the situation, students held a Zoom call with Purdue's administration, only to be met with unprofessionalism and outright censorship – administrators wielded the mute button to silence Young America's Foundation representatives who joined the call to assist the students.
"It would certainly be in the best interests of Purdue University to immediately stop infringing on the constitutional rights of its students," YAF spokesman Nick Baker wrote.
Liberal activists have taken aim at Knowles for his socially conservative views, such as his opposition to transgenderism also known as gender ideology.
"[F]or the good of society, and especially for the good of the poor people who have fallen prey to this confusion, transgenderism must be eradicated from public life entirely—the whole preposterous ideology—at every level," Knowles said at a recent speech at the Conservative Political Action Conference.
He spoke soon after at University at Buffalo, an event which drew protests and some disruptors but ultimately went off without a hitch.
"The liberal press has accused me of lots of crazy things over the years, but 'genocide' is a new one," Knowles previously told The College Fix. "Of course, in order to make that accusation, the press had to lie about what I said."
The conservative commentator has also faced trouble getting approval for an event at Pennsylvania State University-Harrisburg.
Editor's note: The article has been updated to show that Purdue approved the event.
MORE: Purdue spends $500K on 'health equity' director
IMAGE: YAF/YouTube
Like The College Fix on Facebook / Follow us on Twitter