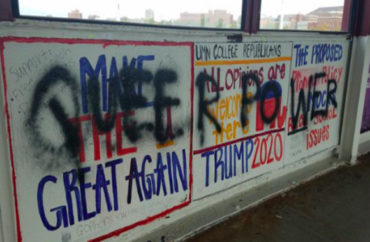 For the third consecutive year, the University of Minnesota College Republicans' mural on a local bridge has been vandalized.
The Washington Avenue Bridge plays host to mural "panels" from many campus organizations. This year's CR panel featured slogans such as "Make the U Great Again" and "The Proposed Pronoun Policy Mocks Real Social Issues."
According to the Minnesota Daily, at some point Friday evening someone spray-painted "QUEER POWER" over the CR's panels.
For the third year in a row, the University of Minnesota chapter of College Republicans had its Washington Avenue Bridge panel vandalized https://t.co/I6CjJnnzdG

— Minnesota Daily (@mndailynews) October 13, 2018
"Very disappointing," the U. Minnesota CRs tweeted out. "We hope the University of Minnesota finds and holds the person(s) responsible for this blatant attack on the UMNCR's First Amendment rights."
The panel drew criticism on social media since it was originally painted on Thursday, and students were gathered inside the bridge to discuss the vandalism on Saturday.

"It's just really frustrating to me," said student Sam Riggins. "Why don't you bring people in with the issues you want to focus on instead of just attacking other people and their issues?"

The group's panel has been a contentious issue in past years. Last year, an altercation occurred on the bridge after one student tried to tape signs over the mural in protest. In 2016, the group's panel reading "Build the Wall" in support of President Donald Trump's campaign was vandalized and protested by students.

In response to last year's spray painting, the conservative student groups painted over their original and vandalized mural with the word "censored."

Mural vandalism hasn't been limited to conservative groups in the past. In 2016, the Muslim Student Association's painting was defaced with the word "ISIS."
What the Daily doesn't mention about the 2016 incidents is that University President Eric Kaler strongly condemned the vandalism against the Muslim student group, but said the College Republicans "should have been more inclusive about recognizing the pain [their panel] caused."
Last year, offended students taped up signs on the CR panel which read "Resist White Supremacy," "Fight Fascism," and "You're the Oppressors."
MORE: Progressives don't like CR's mural, so they vandalize it
MORE: More vandalism at UM bridge and THIS time it's 'hateful'
IMAGE: Minnesota Daily/Twitter
Like The College Fix on Facebook / Follow us on Twitter