'Canceling gender studies is an attempt … to suppress feminist, queer, and trans knowledge'
Due to the alleged "unprecedented hostile takeover" of Florida's New College, professors "fleeing" from the school have  established what they call the "Alt New College," a "grassroots coalition to protect both the academic freedom of students and founding vision of New College."
According to its website, Alt New College's mission is to "teach free and subsidized courses, tutorials and mini-classes to support the academic freedom of students who have been put in the middle of a political crossfire by partisan politicians."
It notes that "for decades" New College has been one of the country's "top-5 liberal arts universities," and asks visitors to view an MSNBC report on the school; however, New College trustee Chris Rufo recently noted this report is "false and misleading."
Rufo said that over the years New College's standings have "plummeted across all metrics, leaving it as the lowest-performing public university in Florida."
According to an emailed Bard College press release, Alt New College's first panel discussion — "The Authoritarian Assault on Gender Studies" — takes place September 18 and features the University of California Berkeley's Judith Butler and Masha Gessen of City College of New York.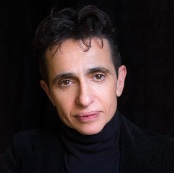 Gessen (pictured), a trans non-binary journalist who uses "they/them" pronouns and who's considered a "thought leader" in international affairs, human rights, gender studies and Russian politics, said New College "is now situated at the frontline of America's autocratic attempt, and gender is at the center of the aspiring autocrats' political agenda."
MORE: New College's only full-time gender studies professor quits
Butler, whose expertise is in critical theory, gender and sexuality studies, comparative literature and social and political thought, faced calls for her resignation as president of the Modern Language Association five years ago as she was accused of belittling the victim in a Title IX complaint.
From the press release:
Former NCF Gender Studies Professor Nick Clarkson said, "Florida has passed a horrifying slate of anti-trans laws in 2023, and New College's new administrators have ensured that New College will no longer be a refuge from state violence. Canceling the Gender Studies Program is an attempt by the trustees to suppress feminist, queer, and trans knowledge. I'm excited to see gender studies teach-ins and events pop up to resist their attempts to silence us."

Alt New College's initial focus will be on subjects that are under assault in Florida, including race, gender, the scientific method, and academic freedom. Talks will also focus on how young people can be empowered to be civically engaged. Alt New College's long-term goal is to build an online institute that helps incubate strategies and share resources to help protect other communities facing similar attacks.
Upcoming events from Alt New College feature "talks and short courses" with Harvard's Naomi Oreskes (who jets around the globe to speak about climate change), English author Neil Gaiman (perhaps best known for his comics series "The Sandman") and anti-gun advocate and recent Harvard graduate David Hogg.
MORE: New College employee quits, rants about Hillsdale and says DeSantis is like Hitler
IMAGES: NewAfrica/Shutterstock.com; CUNY
Like The College Fix on Facebook / Follow us on Twitter