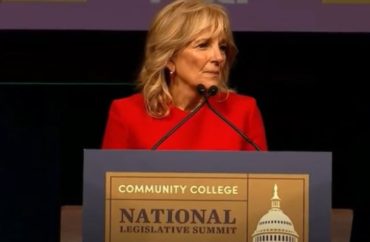 'I was disappointed' the First Lady said
First Lady Jill Biden told community college leaders on Monday that the Build Back Better agenda no longer includes complete taxpayer support for an associates degree.
"Congress hasn't passed the Build Back Better legislation, yet. And free community college is no longer part of that package," Biden said at the Community College National Legislative Summit.
The First Lady is also an instructor at Northern Virginia Community College where she makes more than $80K per year.
"Like you, I was disappointed, because, like you, these aren't just bills or budgets to me, to you, right?" Biden said. "We know what they mean for real people, for our students, and it was a real lesson in human nature that some people just don't get that."
She said "entire towns can be transformed" when companies work with community colleges.
"We've seen how fragile that grasp on middle class life can be, how our students struggle to pay their bills and buy their books," the First Lady said. She said in her classroom she had to "loan a student a book" because he had not gotten paid yet.
The First Lady said going to college could be easier if taxpayers spent more money on "high-speed Internet," "affordable prescriptions" or "more Pell grants."
She also shared the story of a student who could not find reliable childcare while taking one of Biden's courses, which are all taught remotely.
"One day that student is just gone," the First Lady said, speaking of students who have to choose between family, work or school responsibilities.
"Build Back Better is about helping community colleges train our workforce with 21st Century skills," she said.
The legislation would support students in finding "new climate jobs" and providing money for childcare and tutoring.
MORE: Free community college would cost $2.3 trillion over 10 years
IMAGE: CSPAN
Like The College Fix on Facebook / Follow us on Twitter