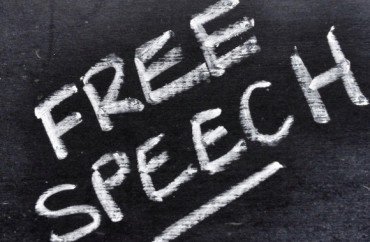 To ensure 'student fees are allocated in a fair, constitutional manner'
When student governments deny funding to campus groups they dislike at public universities, the result can be litigation.
The Foundation for Individual Rights in Education is offering a way for student governments to avoid getting their institutions sued: put "viewpoint neutrality" in writing, and follow it.
Legal interns for the civil liberties group drafted a "model policy for allocating student fees" this summer. The goal is "ensuring that student fees are allocated in a fair, constitutional manner," Temple University's Kelsey Sheronas and the University of North Carolina's Isabela Palmieri wrote in a blog post.
They said they were motivated by high-profile denials of funding to student newspapers at the University of California-San Diego and Rutgers University, though those two cases were very different.
MORE: Student paper defunded for mocking safe spaces
The first involved The Koala, a crude satirical newspaper that had drawn defunding attempts for several years. UCSD administrators denounced it after an issue mocking safe spaces, and the student government quickly followed by defunding all student media. The 9th U.S. Circuit Court of Appeals reinstated The Koala's First Amendment lawsuit this summer.
The Daily Targum at Rutgers, meanwhile, lost funding because of a byzantine student referendum process that requires a minimum voting threshold for the newspaper to keep receiving funding. It had been the target of a defunding campaign by the Rutgers Conservative Union.
FIRE is building off the work of a handful of states that have banned ideological bias as a basis for denying benefits to student groups, legislative counsel Tyler Coward told The College Fix.
He emphasized that the model policy is available for any institution to review. His organization "is ready to assist any institution, free of charge, to help them revise their existing policies to ensure that they are constitutionally compliant," Coward wrote in an email.
Recognition and funding can't be based on viewpoint, 'no matter how unusual or unpopular'
The fight over distribution of mandatory student activity fees goes beyond campaigns against student newspapers.
A nonpartisan politics club successfully sued the College of Charleston to overturn a policy that denies recognition – and by extension, funding – to student groups that are "too similar" to already recognized groups.
In order to close a federal investigation into its initial rejection of a pro-Israel club, Williams College agreed to require its College Council to treat the club's funding requests "in a non-discriminatory manner."
Pro-life student groups at California State University-San Marcos and the City University of New York's Queen College also secured viewpoint-neutral treatment in funding through litigation.
FIRE's six-page model policy seeks to ensure that "[r]ecognition and funding decisions will not be based on a student organization's point of view, no matter how unusual or unpopular."
In elaborate detail, the group gives step-by-step directions to student governments on how to respond to various challenges. They should apply criteria "in the same manner" for every organization and voting members should abstain if they "cannot exercise viewpoint neutrality."
MORE: Appeals court reinstates lawsuit over defunding for mocking safe spaces
Any member of a voting committee with control over student fees that has "repeatedly violated viewpoint neutrality" should be removed from the committee by a two-thirds majority vote, the policy recommends.
Such actions include "influencing other committee members' votes in a viewpoint-based manner" and refusing to abstain when it's clear the member cannot remain neutral.
It also lays out criteria for recognizing student groups and says they should be "presumptively recognized" if they meet those criteria, subject to exceptions for criminal and threatening purposes. Alluding to the College of Charleston settlement, it says "similarity" to other recognized groups can't be the basis for rejection.
Rejected applications must be accompanied by a "written report" from the recognition committee to the student group that explains "how the decision was reached," the basis for denial and "recommendations for how the defect can be corrected."
The model policy emphasizes that student governments don't have to fund all groups the same. "Different groups may be funded at different levels based on objective, viewpoint-neutral criteria related to the administrative requirements and organizational needs and activities."
Finally, the policy lays out an appeals process that convenes an appellate committee whose membership is "entirely different" than recognition and allocation committees. A rejected appeal should be reviewable by a university ombudsman, who "shall reverse the decision" if it was based on viewpoint.
Just five states protect student groups from viewpoint discrimination
Students facing viewpoint discrimination should not wait for their universities to voluntarily adopt such policies, however, Coward told The Fix.
"If a student organization is denied any university benefit or access to resources based on their viewpoint, or the viewpoint of an invited speaker, they should reach out to FIRE to see if there's a way we can help," he said.
FIRE's advocacy, however, is primarily reserved for university administrators. Even when the distribution of student activity fees has been delegated to a body such as a student government, the administration is on the hook legally for any discrimination faced by student groups on the basis of viewpoint, Coward said in a phone call.
Citing confidentiality, he declined to discuss any potential discussions between FIRE and student groups or student governments on the subject of constitutionally compliant policies or navigating noncompliant policies. A spokesperson for FIRE later clarified to The Fix that he wasn't aware of "any students or student groups actively working to implement this particular [FIRE] model at this time." He didn't answer a followup question about how FIRE plans to promote its model policy, such as through its FIRE Student Network.
MORE: Satire publication punished because Title IX overrules Constitution
States vary in their regulation of how student activity fees can be distributed, according to Coward.
South Dakota and Kentucky expressly prohibit ideological bias in the allocation of fees to student groups. Texas, Iowa and Arkansas approved broader legislation whose provisions ensure that "institutions do not deny any benefit or privilege to a student organization based on the expression of that organization."
Aside from those five states, there isn't much activity in other states to pass similar laws, Coward said. He doesn't know of any legislature currently in session that's considering a similar bill.
But they should be aware that the Supreme Court has already spoken definitively on the issue, at least for taxpayer-funded institutions, Coward said.
He pointed to a 2017 FIRE analysis that cites a 2000 Supreme Court decision, known as Southworth, that requires student fees to be distributed in a "viewpoint-neutral manner." Southworth showed up in the federal court ruling against CSU-San Marcos for its funding bias against a pro-life student club.
MORE: Pro-life students win lawsuit against university for biased funding process
MORE: Public college ditches unconstitutional policies to settle pro-life lawsuit
IMAGE: Shuttershock
Like The College Fix on Facebook / Follow us on Twitter