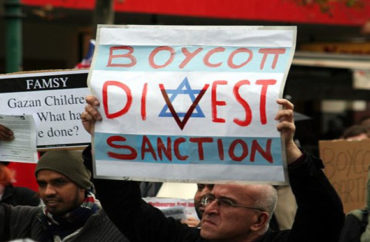 "Questions about 'why boycott Israel and not North Korea or China?' seem to entirely miss the point that boycott is a political act …"
George Washington University has appointed a Boycott, Divestment, and Sanctions-promoting professor as the interim dean of its Elliott School of International Affairs.
Ilana Feldman, who teaches anthropology, history and international affairs, will replace Reuben Brigety II who is moving on to Tennessee's University of the South.
According to the Canary Mission, Feldman's scholarship has "demonized Israel and camouflaged the detrimental effect of Palestinian terrorist groups on Palestinians and Israelis."
Feldman is one of the eight-member Anthropologists for the Boycott of Israeli Academic Institutions, which was the "primary body" advocating for a boycott of "Israeli academic institutions" in the American Anthropological Association.
According to her GWU faculty page, the professor's research "focuse[s] on the Palestinian experience, both inside and outside of historic Palestine, examining practices of government, humanitarianism, policing, displacement, and citizenship."
From the Canary Mission profile:
In 2009, Feldman wrote a paper published in the Journal of Palestine Studies, where she demonized Israel's efforts to provide humanitarian aid to Gazans. Feldman also characterized Israel's withdrawal of all Israeli troops and every Israeli citizen from Gaza in 2005 as "in part, the latest twist" in what Feldman referenced as the "long-running disavowal of an occupier's responsibility." …

On July 18, 2014, Feldman co-signed a letter referring to Israel's Operation Protective Edge (OPE) against Hamas — commenced to stop rocket attacks targeting Israeli civilians and to destroy Hamas attack tunnels — as "the wholesale slaughter of a civilian population."

A week earlier, the online magazine Slate revealed that Israel was making extraordinary efforts to avoid harming Palestinian civilians during the Operation.

However, in Feldman's July 28, 2014, Feldman blog post — referred to earlier in this profile — she demonized Israel's efforts to avoid civilian casualties. Feldman condemned "the phone call ahead of the bomb, the 'roof knock' (a small bomb) ahead of the lethal strike…" Feldman also condemned Israel for not bombing Palestinians following a roof knock, claiming: "sometimes the phone call is not followed by a strike underscores its potency in psychological warfare. These tactics are yet another weapon in the massive arsenal deployed against Palestinians."
In a 2016 virtual seminar, Feldman responded to those who ask "why boycott Israel and not North Korea or China?" thusly: "[They] seem to entirely miss the point that boycott is a political act and not just a statement of position. In voting for [BDS], we have the opportunity to join a movement that is already strong and getting stronger."
The group GW for Israel responded to the Feldman appointment with a statement posted to its Facebook page:
Read the full Canary Mission profile.
h/t to Jewish News Syndicate
MORE: Anti-Israel profs load their Israel-Palestine courses with pro-BDS authors
MORE: Dickinson College student government passes ban on Sabra hummus
IMAGE: Takver / Flickr.com
Like The College Fix on Facebook / Follow us on Twitter