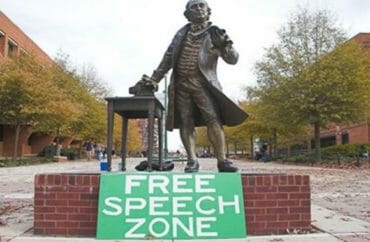 Georgia Senate, House vote to ban 'free-speech zones,' allow students to protest campus wide
The Georgia State Senate voted to pass and adopt House Bill 1 April 4 with a vote of 33 to 18.
If signed by Governor Brian Kemp, House Bill 1, also known as the "Forming Open and Robust University Minds Act," would prevent the establishment of "free speech zones" at public universities of higher education in favor of allowing campus-wide protests and organizing.
"Free speech zones" are areas on campus "which physically contain political, religious, or other controversial speech to certain areas of campus," according to the Libertarian Party of Georgia. When these zones are enacted, some student protests and other forms of expression, such as religious outreach, are restricted to these areas and to a specific timeframe.
The act aims "to provide for public forums at public institutions of higher education within the University System of Georgia and the Technical College System of Georgia for the campus community," allowing students and outside groups to express and debate ideas more openly.
The Senate vote was split along partisan lines, with nearly universal support by Republicans and majority opposition from Democrats. However, two Democratic senators broke from the party line to vote in favor.
Senator Bruce Thompson, one of seven Republicans supporting the bill, stated during the session that "House Bill 1 will protect and clarify the First Amendment rights our students should enjoy in our public colleges and universities," according to Georgia Recorder.
The Georgia House of Representatives passed the bill March 4 with a vote of 93 to 24, according to CBS News. A majority of House Democrats, 62 of 77, voted against it.
Georgia student claimed free speech zone violated his First Amendment Rights
Zack Pruitt, senior counsel with Alliance Defending Freedom, told The College Fix via email prior to the bill's passing that it would provide student groups the freedom they are entitled to under the Constitution and court precedent.
"Restricting free speech to small, out-of-the-way areas of campus limits the ability of students and student organizations to effectively communicate their message," he stated.
"In one GA case, Uzuegbunam v. Preczewski, Georgia Gwinnett College had two tiny 'free speech zones' that made up .0015% of campus which severely limited the ability of student Chike Uzuegbunam to share his faith with others," Pruitt continued.
Uzuegbunam, the plaintiff in the case, was an undergraduate at the college who claimed that it had violated his First Amendment rights by telling him he had to cease speaking about his religious faith on a common area of campus.
The designated "free speech expression area" at Georgia Gwinnett College, whose campus included more than 260 acres, accounted for only .0015 percent of the campus, according to the Times. It comprised "two small patches of concrete": a patio and a sidewalk.
The Supreme Court ruled in Uzuegbunam's favor in 2021, and the decision made it easier for students to sue public universities over speech policies.
In his email, Pruitt stated that the ban on free speech zones would not impinge on private spaces or property; speech would still be "limited to the open, generally accessible outdoor areas of campus." It could also be contained by "reasonable time, place, and manner restrictions."
Some say the bill is unnecessary or would endanger student safety
During debate in this house, Democratic Representative David Dreyer stated that the bill "comes from a myth that conservatives are being discriminated against on college campuses, which we heard over and over again at the committee hearing," according to CBS News 46.
Jordan Madden and James Wilson, student activists at Georgia State University, criticized the bill in interviews with the news agency. Wilson said that he doesn't believe that the Georgia legislators "care about their safety." Madden stated that it was a "slap to the face," and due to laws preventing activists from causing disruptive activity, it would "not allow him to counterprotest."
"By the time you realize that there is a neo-Nazi group or a white supremacy group on campus the disruption has already occurred," Wilson said.
The College Fix reached out via email to Democratic Representative Becky Evans, who voted against the bill, but has not received a response. It also has not received a response from an inquiry sent to the media representative with the Georgia State University College Democrats.
States with free speech zone bans similar to that proposed by the bill include Ohio, Oklahoma, Alabama, and Indiana.
MORE: Indiana bans campus free speech zones
Like The College Fix on Facebook / Follow us on Twitter