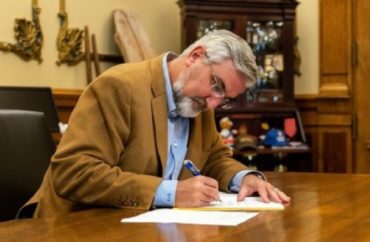 Unanimously passed both chambers
Indiana became the latest step to officially ban free speech zones at public colleges and universities.
Republican Governor Eric Holcomb (pictured) signed legislation on Tuesday that forbids universities from "designat[ing] an outdoor area on campus as an area where protected expressive activities are prohibited."
The legislation also allows for "compensatory damages up to $50,000" and will create a way for people to report potential violations.
It passed both chambers unanimously.
Alliance Defending Freedom, which frequently litigates against free speech zones, praised the new law.
ADF attorney Zach Pruitt stated:
Public colleges and universities are meant to be free and open for the exchange of ideas—a place where our future teachers, lawyers, doctors, judges, community leaders, and voters can exercise their constitutionally protected freedom of speech. HB 1190 ensures that public universities remain places where intellectual diversity flourishes and all students can engage in the exchange of ideas rather than being censored on campus. We commend Gov. Holcomb and the Indiana Legislature for protecting students' First Amendment freedoms.
The flagship Indiana University campus is generally good on free speech, according to the Foundation for Individual Rights in Education analysis. It has an overall "yellow" rating. However, it receives a "green" rating for its generally permissive speech policy that allows for expression "in most outdoor areas of campus."
Purdue University has a green rating because it eliminated all speech codes. Though oddly, it referred two students over for criminal prosecution after they hung posters criticizing an administrator.
The new law could help universities avoid some hefty legal costs, after a March 2021 Supreme Court ruling made it easier for students to sue over First Amendment violations.
Free speech should be protected regardless of any law or SCOTUS decision.
Other states with similar free speech zone bans include Ohio, Oklahoma and Alabama.
MORE: Colorado State offers help for anyone 'affected by a free speech event on campus'
IMAGE: Governor Holcomb Office
Like The College Fix on Facebook / Follow us on Twitter