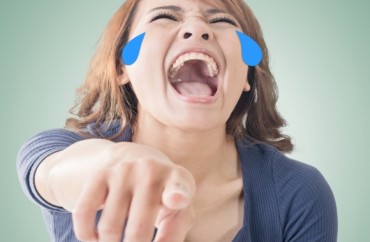 The Young Americans for Freedom chapter at the University of Southern California set up a display on Wednesday featuring a large poster proclaiming "It's a Dangerous Time for Men — Change My Mind" … and it did not sit well with some of the campus community.
Shocker, eh?
Although YAF chairman Maxwell Brandon noted the group was not "denying that it's not a dangerous time for women either," he pointed out how the group's sign automatically generates "a very heated political conversation," whereas if they had displayed a "It's a dangerous time for women" there would no quarrel.
The Daily Trojan reports students challenged the poster's premise throughout the day, and noted the statistic that "only between 2 and 10 percent of sexual assault reports are deemed false."
A student who wanted anonymity "due to concerns for her safety" claimed that she, despite her "hot head," tried to have a discussion with the YAF about the sign … but ended up feeling "really disrespected."
"I could've probably approached the situation in a calmer manner, but I was trying to at least explain my story … and he just cut me off immediately," she said.
Brandon […] said the purpose of the poster was to bring attention to not only how treating the accused as guilty is unreasonable, but also how women must speak out when sexual assaults take place.

"It's really difficult to come forward and I understand that," Brandon said. "But if you really want to change, men not only need to man up and start acting like men … Women need to step forward when it happens too." …

[YAF Treasurer Tyler] Tornetta said that along with creating dialogue, the organization wants to elevate conservative voices, especially on a campus that he deems predominantly liberal.

"Whether it's inviting a speaker here, setting up a table such as this where we're asking people to come actually talk to us and help to try to at least change our minds or setting up a table just to discuss our club," Tornetta said. "It's all for the same purpose, which is to introduce the students of USC to our conservative values and to start a conversation."
Grad student Jason Williams wasn't buying the YAF's intentions.
"I just think it is bullshit, honestly," he said. "I don't think they are actually here to listen. I think they are just here to intimidate."
Indeed? This is "intimidating":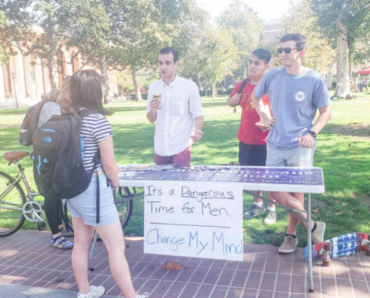 MORE: Antifa subjects YAF meeting to profanity-laced tirades
MORE: UW-Madison's Young Americans for Freedom labeled hate group
IMAGES: Shutterstock.com, Daily Trojan
Like The College Fix on Facebook / Follow us on Twitter