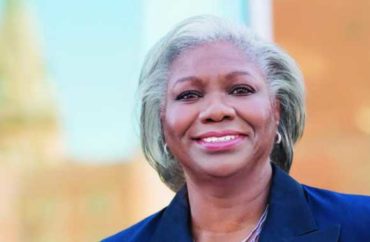 'Great harm has been done to the reputation of Minnesota's oldest university,' faculty stated
Hamline University full-time faculty on Tuesday asked President Fayneese Miller to resign over her administration's management of a Muslim student's complaint about a professor who showed an image of the Prophet Muhammad and then lost her job, The Pioneer Press reported.
The faculty voted 71-12, with nine abstentions, to support a statement calling for Miller's resignation, Jim Scheibel, a business professor and president of the faculty council, told the news outlet.
"We are distressed that members of the administration have mishandled this issue and great harm has been done to the reputation of Minnesota's oldest university," according to the faculty statement reviewed by The Pioneer Press. "… As we no longer have faith in President Miller's ability to lead the university forward, we call upon her to immediately tender her resignation to the Hamline University Board of Trustees."
The crux of the controversy centers on two ancient images of the Prophet Muhammad shown during an optional portion of an art history class last semester.
"A student complained about the image's inclusion in the course and led efforts to press administrators for a response. After that, the university's associate vice president of inclusive excellence (AVPIE) declared the classroom exercise 'undeniably inconsiderate, disrespectful and Islamophobic,'" Christiane Gruber, a professor of Islamic art at the University of Michigan, wrote in a December 22 essay for New Lines Magazine.
Many — but not all — Muslims object to visual representations of religious figures such as Muhammad, understanding them as form of idolatry, according to Britannica.
Nevertheless, the university rescinded its offer to rehire art history instructor Erika López Prater, according to multiple sources.
President Miller "stood by that decision even after receiving a private letter from FIRE, coverage from media outlets like The New York Times and The Chronicle of Higher Education, an open faculty letter with more than 400 signatures from professors across the country, and over 1,800 emails sent by private individuals asking for Prater's reinstatement," Foundation for Individual Rights and Expression reported Jan. 25.
Miller conceded last week she may have handled the incident badly.
"Sometimes we misstep," according to a joint statement issued Tuesday by Miller and Board of Trustees Chairwoman Ellen Watters. "In the interest of hearing from and supporting our Muslim students, language was used that does not reflect our sentiments on academic freedom. Based on all that we have learned, we have determined that our usage of the term 'Islamophobic' was therefore flawed. We strongly support academic freedom for all members of the Hamline community."
López Prater sued Hamline on Tuesday for defamation, creating "emotional distress," and "violations of the Minnesota Whistleblower Act," The College Fix reported.
MORE: OPINION: Don't leave religion to DEI
IMAGE: Hamline University
Like The College Fix on Facebook / Follow us on Twitter