Swimmer Riley Gaines, who's been speaking out against the participation of biological men in women's sports, made an appearance at Harvard University on Thursday.
But progressive activists, including members of TransHarvard, the Queer Students Association, and Harvard Law's Women's Law Association, threw a "Big Trans Party" — which included posters and speeches — to protest Gaines' talk, The Crimson reports.
According to the report, in her talk Gaines "repeatedly misgendered transgender athletes," including University of Pennsylvania swimmer Lia Thomas against whom Gaines competed in the NCAA swimming championships.
"Men are men, women are women," Gaines said. "There are only two sexes. You can't change your sex and each sex is deserving of equal opportunities."
Gaines said that being called "transphobic" has "literally no meaning" to her — she considers it a "term of endearment."
"I think if we're labeling pro-woman as anti-trans, wouldn't that inherently mean pro-trans is anti-woman?" Gaines asked. "I'm most certainly pro-woman and I'm not advocating for the exclusion of trans athletes.You just compete where it is fair and where it's safe."
MORE: Riley Gaines: Penn State canceled my 'Real Women's Day' speech
Chastity Bowick of the Transgender Emergency Fund of Massachusetts told Big Trans Party protesters to "continue letting your voices be heard [and] your faces be seen."
"[T]hat is the only way that we're going to create concrete change for our trans youth," Bowick said.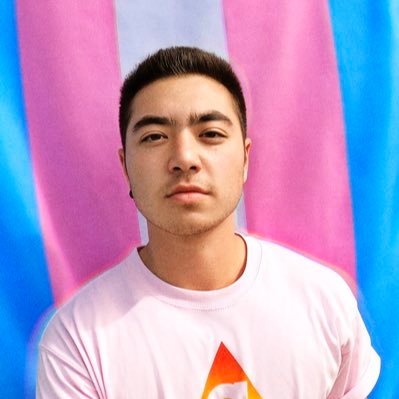 Former Harvard swimmer Schuyler Bailar (pictured), a biological woman who transitioned to a man, told protesters that "people like her are happening because [transgender people] are making progress, right? [W]e're more visible than we ever were before. Because we actually are striving for more than what the box is that they put us in."
But unlike Lia Thomas, Bailar made the less advantageous sporting decision in college: Although originally recruited by Harvard's women's swim team, Bailar decided to swim with the men knowing the competition would be a lot tougher. For example, the Ivy League women's record for Bailar's main event, the 100 meter breaststroke, would rank as only the 21st best time in the men's competition.
Recently, the tech platform Eventbrite refused to allow Gaines to use its site to manage tickets for her appearance at the University of California Davis. The company claimed the event violated its community guidelines/terms of service against "disparaging," etc. groups based on various "actual or perceived" identity characteristics.
Oddly enough, Eventbrite's guidelines and TOS don't appear to apply to pro-Hamas events.
MORE: TikTok removes College Fix video of leftists flipping table at Riley Gaines event
Last chance to support student journalists during our Back to School fundraising campaign! We're very close to our goal of $25,000. The deadline for the matching offer is quickly approaching so please donate by Oct. 31 to help us meet the goal. Thank you!
IMAGES: Riley Gaines/Facebook; Schuyler Bailar/X
Like The College Fix on Facebook / Follow us on Twitter