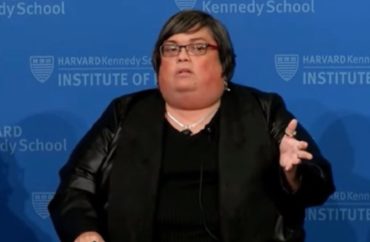 Conservatives 'hijacked' Hillary Clinton's branding, scholar says
Harvard University has asked its anti-Donald Trump meme expert to leave the university, according to the student newspaper.
"Harvard Kennedy School Dean Douglas W. Elmendorf is forcing out online misinformation expert Joan M. Donovan from her role at the Shorenstein Center on Media, Politics and Public Policy," the student newspaper reported.
The Harvard Crimson reported that Elmendorf is "ending [Donovan's] research project, according to three HKS staff members with knowledge of the situation."
Donovan (pictured) has claimed that Trump and conservatives were victorious in 2016 because they were better at making memes.
"Hillary Clinton was not memeable nor was she meme savvy and even when she launched memetic campaigns online, even with her branding, as my class knows, it's been hijacked by the right," Donovan said at a September 2022 panel, nearly six years after the presidential election of 2016.
"So when she came out and said things like the alt-right or basket of deplorables or wrote about Pepe [a cartoon frog] on her website it was just like anything online that had to do with Hillary Clinton was incredibly corrosive," Donovan said.
Donovan also blamed Russia for Trump's 2016 victory. She has previously blamed "right-wing agitators" for pushing a false narrative about lawless rioting in 2020. A recent study from New York University debunked the idea that Russian social media campaigns helped Trump win in 2016.
She also co-authored a book about memes and ran a "MemeWarWeekly" newsletter that has been defunct since 2020. A webinar series called "BIG, If True" about conspiracy theories has been inactive since March 2021, almost two full years.
"Donovan was told she has until summer 2024 to end the Technology and Social Change project and depart from her role at HKS, according to the staff members," the student paper reported.
Her project "explores media manipulation as a means to control public conversation, derail democracy, and disrupt society," according to its website. The technology initiative "conducts research, develops methods, and facilitates workshops for journalists, policy makers, technologists, and civil society organizations on how to detect, document, and debunk media manipulation campaigns."
The Shorenstein Center, where Donovan works, recently hosted ex-CNN host Brian Stelter as a fellow in the fall 2022 semester. It is also being sued, ironically, for spreading false election information about a black activist group.
MORE: Media should abandon 'objectivity,' journo professor says
IMAGE: Harvard Kennedy School
Like The College Fix on Facebook / Follow us on Twitter