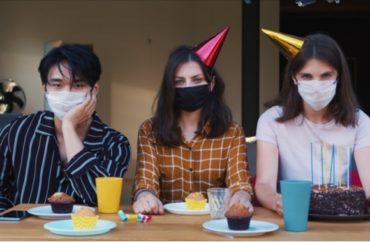 Students are banned from talking to the media about accusations
Harvard University recently sent three students home for hosting a party in September that the school said broke the Ivy League institution's coronavirus rules.
What was the egregious offense?
The students allegedly hosted three students for a party, if you can even call it that, in their residence hall. Courses are online this semester, but the university's freshmen are living on campus.
The Harvard Crimson reports:
Harvard sent home three freshmen living in Mather House last weekend after finding that they hosted a party in the house with at least three other guests last month, according to five freshmen on campus with knowledge of the matter.

The students' departure marks the first confirmed case of Harvard College's Community Council disciplining undergraduates for violating its residential compact.

Harvard spokesperson Rachael Dane wrote in an email that the College does not comment on the status of individual students.

Because all classes this semester are virtual, students sent home from campus may continue their coursework from afar. The College charges those students — who can be dismissed from the dorms for up to two semesters — room and board only for the portion of the year in which they lived in residence.
MORE: UT-Austin threatens punishment for students who host 'parties' amid COVID
Confusingly even for Harvard students, the university's guidelines for events and gatherings allow for larger gatherings.
Harvard University Health Services suggested these guidelines: "for indoor gatherings, participants should be limited to 25 and must also have no more than 8 people per 1000 sq feet accessible space" but "overall, we discourage any indoor gatherings at this time."
Despite appearing to follow the rules, the students still faced the wrath of the Community Council.
The Council is composed of faculty, university staff and student volunteers and adjudicates allegations against students who are accused of breaking social distancing guidelines.
The disciplinary process that the students endured mandates that students remain largely quiet about the proceedings.
The university's coronavirus infraction reporting system encourages students to submit photos and videos when they witness people breaking the rules. Students are also permanently barred from discussing the disciplinary process.
Students who break the gag order could face disciplinary action by the Administrative Board. While the policies do not specifically what happens if a student violates the gag order, the penalties for violating other coronavirus rules include a warning, "community education" or removal from housing, according to The Crimson.
Harvard's positivity rate in the past seven days is only 0.04 percent.
MORE: Penn State say it's punished nearly 1,300 students for COVID-19 violations
IMAGE: KeyStock/Shutterstock
Like The College Fix on Facebook / Follow us on Twitter