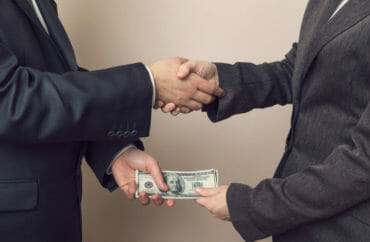 'We want to create an environment where ideas can be freely exchanged'
Motivated by the angry, difficult political environments on many campuses today, two Harvard undergrads are developing a platform that allows people to debate and discuss contentious topics anonymously, with the hope that such a program will be a place "where true intellectual development can occur."
The website will even pay users to engage in debate, offering a "tangible incentive" to join in the discussion.
The two students, Rangel Milushev and Kaan Armagan, are preparing to launch Cartesian Network, "a decentralized polling platform where voting happens anonymously on the blockchain," according to Harvard's website.
As defined by Merriam-Webster, blockchain is a "digital database containing information…that can be simultaneously used and shared within a large decentralized, publicly accessible network."
As Armagan told Harvard: "Quite often, even an academic environment like Harvard isn't a place where ideas can be exchanged freely…Certain social norms prevent people from vocalizing unpopular opinions. We don't think any idea should gain precedence over another, but we want to create an environment where ideas can be freely exchanged, and where true intellectual development can occur."
On many campuses, controversial or dissenting opinions can lead to targeted harassment. Last year a Georgetown professor allegedly targeted and harassed a Muslim colleague for supporting Donald Trump. Earlier this year a white conservative student was publicly harassed at Wake Forest University. Pervasive bias against conservatives in higher education has led to strange environments such as that of Yale's, where more freshmen identify as LGBTQ than as conservative.
In the midst of all this, the two undergrad scientists at Harvard hope to spur debate by removing the fear of being identified and targeted. The platform will even pay users to engage in discussion:
Verified users join specific Cartesian Network communities, initially based around college campuses like Harvard and Yale, and then use their anonymous blockchain key to create polls and voice opinions within their respective community.

Users submit ideas for topics to be discussed and the community weighs in on which they'd like to take up—the most popular issues would then be opened for debate for a specified amount of time, Armagan explained.

"There are a lot of controversial issues on campus, such as final clubs closing down, some moves of the administration to remove 'Harvard time' and 'shopping week,' where it could be useful to know what people's opinions actually are," said Milushev.

Cartesian Network also features an incentive system to spur more engagement. Users will be rewarded in the network's native crypotcurrency for things like the number of responses to their poll question and the relevance of evidence they present supporting their position.

That cryptocurrency could eventually be converted to dollars, giving a tangible incentive to encourage debate, Armagan said.
As Cartesian Network's website points out, consistent majorities of college students believe that debate and expression have been stifled on college campuses.
"[W]e aim to solve a growing problem affecting college campuses around the United States, Europe, the Middle East and beyond: the lack of an environment of free expression and representation of thoughts, ideas and beliefs," the developers state.
MORE: Student group cancels discussion on free speech because 'safety'
IMAGE: Impact Photography / Shutterstock.com
Like The College Fix on Facebook / Follow us on Twitter