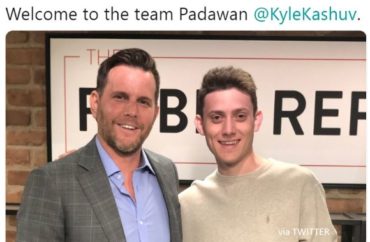 The tweet said it all: "Harvard foolishly rescinded the acceptance of @KyleKashuv so we hired him as our new Digital Director. Instead of racking up college debt he has a paying gig. Welcome aboard, Kyle!"
That was from "Intellectual Dark Web" pundit and Rubin Report host Dave Rubin on Tuesday celebrating the upcoming beta launch of his new tech company, distribution partnership with The Blaze — and the hiring of Parkland shooting survivor Kyle Kashuv to be his digital director.
Kashuv rose to fame as the articulate and outspoken pro-Second Amendment advocate in the wake of the mass shooting at Marjory Stoneman Douglas High School, his alma mater.
Over the summer, Kashuv found himself at the center of a national controversy as Harvard rescinded his acceptance after screenshots emerged showing Kashuv making racist remarks online when he was 16-years-old.
Kashuv had repeatedly used the N-word and said in one exchange, "I'm really good at typing n****r ok like practice uhhhhhh makes perfect." He also used the term "n****rjocks" to describe athletes.
Upon the revelation of the slurs, Kashuv promptly issued a lengthy apology.
"We were 16-year-olds making idiotic comments, using callous and inflammatory language in an effort to be as extreme and shocking as possible. I'm embarrassed by it, but I want to be clear that the comments I made are not indicative of who I am or who I've become in the years since," Kashuv wrote in his late-May public apology. "… I can and will do better moving forward."
Unmoved by the apology and Kashuv's promises to make it right at Harvard, the institution still rejected him.
He later blamed "vindictive peers" who disagreed with him politically for his old online comments resurfacing in a Daily Caller apology video. He also said in the video he "gave up a lot of big scholarships to go to Harvard," and in the wake of the developments was reviewing all his options on moving forward.
After Rubin announced Kashuv's employment, Kashuv responded on Twitter saying, "Honored to be part of team @RubinReport!! Oh, and I'm most definitely still going to college!"
Honored to be part of team @RubinReport!!

Oh, and i'm most definitely still going to college! https://t.co/ApleKmiHwU

— Kyle Kashuv (@KyleKashuv) September 4, 2019
But a lot of Twitter users responded that they think the move was a wise one and disparaged college:
You'll learn far more there than you would've at Harvard and you'll get paid to do it. Congrats!

Best of luck! There is a whole world cheering for you! (And betting that some day you will say not going to Harvard was the best thing that ever happened to you.)

Congratulations Kyle! Working with @RubinReport sounds way better than indoctrination at Harvard. Good for you!

Congrats. Much better than the #ivyleague #collegeisoverrated
Rubin declined to comment for this article and Kashuv could not be reached for comment.
The Rubin Report is a YouTube channel hosted by Rubin, where guests are invited from all sides of the political spectrum to discuss their thoughts on issues ranging from free speech all the way to U.S. foreign policy.
MORE: Parkland, Florida students to share their 'expertise' at Harvard
IMAGE: Twitter screenshot
Like The College Fix on Facebook / Follow us on Twitter