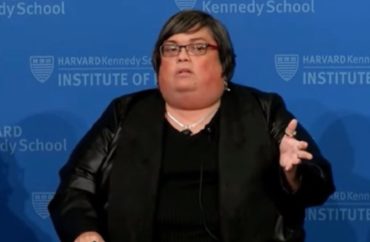 New professor will work to build database of politicians' online activity
A "misinformation" who lost her job at Harvard University has landed a new gig at Boston University.
Joan Donovan will take her expertise there after Harvard University shut down her research project because she did not obtain a full faculty position.
Donovan is "a renowned expert in online misinformation and disinformation campaigns" and will join the university as a communications professor, the school announced on Wednesday.
While at Harvard, she questioned the authenticity of Hunter Biden's laptop, information which has now been repeatedly verified as accurate. Donovan also said "right-wing agitators" who post videos of Antifa and Black Lives Matter riots are to blame for creating a narrative of leftist violence. She also called for social media companies to "work actively to prevent militias and vigilante groups from staging these armed standoffs," when armed citizens show up to counter protest destructive leftist riots.
"One of her first projects at the University will be to build out an internet observatory of everything nationally elected politicians post online," BU announced. Donovan hopes to get a federal law passed so the National Archives can build a similar database.
Donovan (pictured), researches social media and previously argued that President Trump won the 2016 presidential election because his supporters were better at making Internet jokes, or memes, than Hillary Clinton's team.
"Hillary Clinton was not memeable nor was she meme savvy and even when she launched memetic campaigns online, even with her branding, as my class knows, it's been hijacked by the right," she said during a Harvard panel in 2022, nearly six full years after the election. "So when she came out and said things like the alt-right or basket of deplorables or wrote about Pepe [a green frog meme] on her website it was just like anything online that had to do with Hillary Clinton was incredibly corrosive."
The professor heralded her own courageous work researching "meme wars" in the Boston University announcement.
"It can feel a little like trying to hold back a tidal wave with your own two hands," she stated in the news release.
The university celebrated her work which it said is important for a "functioning democracy" and referenced the upcoming 2024 presidential election.
"In an era of increasing polarization, and with a big election year coming up, Dr. Donovan's work is more important than ever," College of Communication Dean Mariette DiChristina stated. "Reliable information, especially on fast-moving digital platforms, is fundamental to a functioning democracy, and Dr. Donovan is joining a strong team of researchers at the college and at BU who are focusing on these critical issues."
The reference to the work of academics and their role in elections and monitoring social media is not a unique theme.
Two universities, the University of Washington and Stanford University, are currently being sued for their partnership with the federal government to police online speech.
Stanford and Georgetown University also recently teamed up to create an "ethical future" for the Internet, according to former Stanford President Marc Tessier-Levigne who subsequently resigned after an investigation identified numerous flaws in his research.
MORE: New College enrolls more students, looks to cut gender studies
IMAGE: Harvard Kennedy School
Like The College Fix on Facebook / Follow us on Twitter