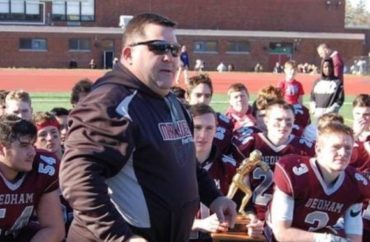 'Shaped a lot of us kids into the men we are today'
After the Black Lives Matter protests sparked by the killing of George Floyd, progressive activists pressured K-12 schools from coast to coast to inject critical race theory into their curricula.
The Dedham school district in Massachusetts was among those giving in to activists. One parent didn't like his daughter being taught that she was inherently racist for being white, and said so.
That's how the 10-year football coach at Dedham High School lost his paid position.
David Flynn, who remains a special education teacher at nearby Braintree High, was more than a "great coach" to his players, one of them told The College Fix.
"[D]efinitely an amazing guy," James Meaney, who played for Flynn early in his Dedham tenure, wrote in an Instagram message. "Shaped a lot of us kids into the men we are today. … He'd do ANYTHING for his players, on and off the field."
The ex-coach drew more praise in a Change.org petition demanding his reinstatement, which has drawn nearly 4,000 signatures as of Tuesday night.
"Dave Flynn has done nothing but instill toughness, integrity and grit into the boys," signatory Patrick Gill wrote. "It is a travesty someone has been so unjustly removed."
Represented by the public-interest law firm Judicial Watch, Flynn is suing Dedham Superintendent Michael Welch, Principal Jim Forrest and Director of Athletics Stephen Traister.
The coach's character and performance in the job were not factors in the surprise non-renewal of his contract, but rather "philosophical differences," attorney Michael Besesha said in a phone call.
Welch, Forrest and Traister said the same thing in an email to football families, sent minutes after their Jan. 20 meeting with Flynn, which shows the rationale to fire him "plainly had been prepared in advance" of the meeting, the suit says.
It alleges retaliation against Flynn for "protected petitioning" and "protected speech" as a citizen and parent in violation of a federal statute known as Section 1983, which governs unconstitutional actions by public officials.
'World Geography and Ancient History' with neither
A Dedham native told The Fix she heard that local activists were demanding the injection of "racial education" into the public school curriculum after the George Floyd protests.
That apparently worked, given the changes to "World Geography and Ancient History" that Flynn's seventh-grade daughter took last semester, as described by the suit.
It portrays major differences between the syllabus and the instruction in practice, which began to delve into modern, controversial social and political issues.
Rather than anything related to ancient history and geography, "the instruction concerned issues of race, gender, stereotypes, prejudices, discrimination, and politics, among others," according to the lawsuit. The teacher's "Memoji" – a digital avatar of herself – sported a Black Lives Matter t-shirt, as shown in an image obtained by Turtleboy Sports.
The Flynns "were concerned about the instruction their daughter was receiving and contacted both the teacher and the school's principal," the suit reads. Though Principal Forrest responded, they "did not feel that their concerns were addressed adequately."
MORE: Flynn says objections to Black Lives Matter curriculum led to firing
They then emailed the superintendent to inform him the teacher was not following the syllabus, and that the lessons were "not suitable" for 12- and 13-year-olds. Unsatisfied by Welch's response, the parents contacted the Dedham School committee.
A week later, they removed their two children from the Dedham school system, "believ[ing] the issue was behind them."
Flynn's persistence regarding the middle-school curriculum cost him his job at the high school: His contract had been renewed every year since 2011, and the school gave him no indication the 2021 contract would be any different before he protested the newly woke history class.
Five days before his meeting last month with Welch, Forrest and Traister, the athletic director sent him the schedule for the upcoming football season, according to the suit. At the meeting, after discussing Flynn's email to School Committee members, officials decided the athletic program "was going in a different direction."
He's still listed as "Head Football Coach" on the coaches' directory as of Tuesday night.
'He'd be there anytime of the day I needed him'
The lawsuit emphasizes how beloved Flynn was to the community – an assessment reflected in the Change.org petition comments.
Dedham's football record was in a dire state of affairs before Flynn joined, suffering a one-win season. The former Harvard football coach took them to the playoffs. Flynn is also socially progressive, to the point that he "invited a female student to join the JV football team and welcomed a student with special needs to serve as team manager."
His former player Meaney told The Fix the coach would "wait after practice to talk or help kids with homework." This was especially meaningful to him: "Even during high school I was going through some personal stuff, he'd be there anytime of the day I needed him. A really stand up guy."
Petition comments sing a similar tune about Flynn's character. "He's a great coach and has had no problems since started 10 years ago," signee Viv Rutland wrote.
Robert Rutland called Flynn an "asset to the community" as well as a "great father and a great coach."
Support for Flynn has been significant offline as well. Students, athletes and parents held a rally the day after his departure was announced, WCVB reported.
"Anyone who is remotely concerned about threats to our First Amendment rights should feel thankful that Judicial Watch is going to bat for" Flynn, the state Republican Party said last week.
"Parents should never have to fear losing their jobs for questioning their child's education," Chairman Jim Lyons. "The left is injecting politics into our classrooms, and has shown a commitment to 'canceling' anyone who questions their ideology."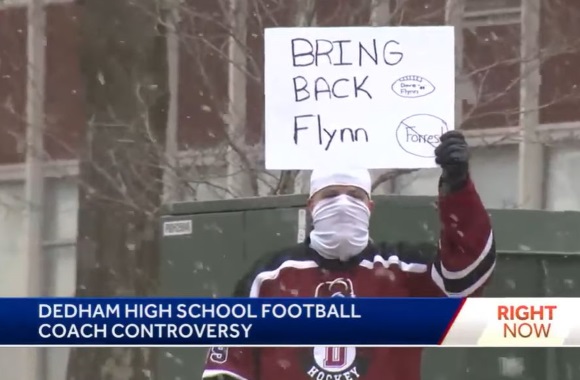 MORE: After 22-year career, this professor was fired after controversial tweets
IMAGES: Jimmy Coughlin/Facebook, Dedham Public Schools screenshot, Channel 5 Boston/YouTube
Like The College Fix on Facebook / Follow us on Twitter