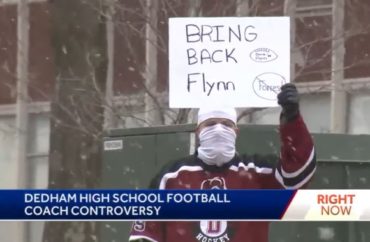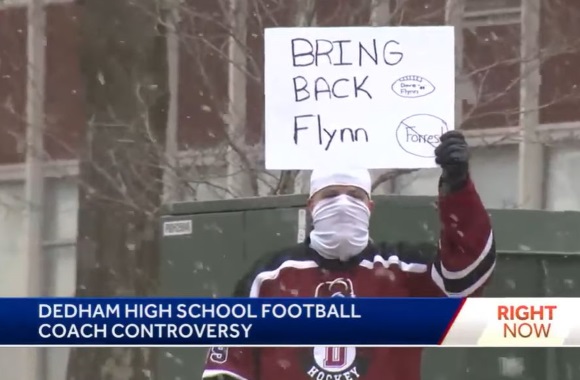 A popular Massachusetts football coach claims in a recently filed lawsuit that he was fired for voicing concerns over his daughter's politically charged curriculum.
"A high school football coach fired after raising objections to pro-Black Lives Matter material in his daughter's seventh grade history class has sued school officials in Dedham, claiming they violated his First Amendment right to free speech," reports the New Boston Post.
"Dave Flynn, who had served as head football coach at Dedham High School since 2011, was informed he would not be reappointed as coach on January 20, about three months after he raised objections about the class," the Post reported.
In a Jan. 20 memo sent from the school district to football families, "We met with Mr. Flynn today because he has expressed significant philosophical differences with the direction, goals and values of this school district," which led to seeking "different leadership for the program at this time."
That according to WCVB Channel 5 Boston, which obtained a copy of the letter and reports the head coach job was an annual appointment.
The day after the decision was made public, some students took to the streets to protest the coach's termination.
Many in the community continued to show support for Flynn as the week unfolded, reports the Dedham Times.
"The controversy goes beyond athletics, into the fundamentals of race relations and public schooling. David Flynn and his wife Ann are the parents of two children in this district. Concerns they evidently expressed about the instruction being offered to their seventh grade daughter may be a relevant factor in the non-reappointment. Questions remain about what was expressed, how, to whom, when, what the response of Dedham Middle School has been, and what prompted the concerns in the first place," the Times reported.
The Washington Free Beacon reports that "Middle school history teacher Kim Randall created an avatar of herself for her online classroom that wore a Black Lives Matter T-shirt and used materials that depicted police officers as 'risks' to black people and black people as 'risks' to white people."
BREAKING: Judicial Watch filed a lawsuit on behalf of David Flynn who was removed as head football coach after raising concerns about his daughter's 7th grade history class curriculum being changed to include coursework on race/gender equality & more (1/3).https://t.co/1C1owBNLfI

— Judicial Watch ⚖️ (@JudicialWatch) February 16, 2021
Flynn is represented by the conservative legal law firm Judicial Watch, which stated in a Feb. 16 news release it "seeks damages against the superintendent, high school principal, and high school athletic director for retaliating against Flynn for exercising his First Amendment rights."
The lawsuit states that prior to becoming head football coach, the football program had a poor win-loss record, but under Flynn's leadership it flourished and became successful.
Flynn "rebuilt his hometown team by dedicating his life to his players. He not only gives them a substantial amount of his time on the field but also provides rides and equipment to players in need," the lawsuit states.
Flynn "also is supportive of all members of the community," it added. "He invited a female student to join the JV football team and welcomed a student with special needs to serve as team manager. He is well-liked and highly respected among parents and students."
The suit claims Flynn and his wife had asked for a copy of their daughter's curriculum prior to the start of school, but through online schooling noticed that the instruction veered away from the stated course materials.
"[T]he instruction their daughter was receiving in 'World Geography and Ancient History I' was unrelated to the ancient history and world geography subjects described on the Dedham Public Schools website. Instead, the instruction concerned issues of race, gender, stereotypes, prejudices, discrimination, and politics, among others," the lawsuit alleges.
In October, the Flynns emailed the superintendent about their concerns, including their observation that their daughter's teacher used "class materials that labeled all police officers as risks to all black people and all black males as risks to white people," the lawsuit states.
The Flynns also shared their concerns with other families and more district officials as the weeks went on, and ultimately they decided to pull their children from Dedham Public Schools and thought that resolved the matter, it added.
But Dave Flynn, when he was called into the meeting with school district leaders on Jan. 20, was shown a copy of his email from the fall voicing concerns over the curriculum, the lawsuit states.
Judicial Watch President Tom Fitton stated that "cancel culture has come to high school football. Coach Flynn was fired for exercising his constitutional rights to object as a citizen and father to an extremist and racially inflammatory school curriculum in his child's history class."
MORE: After 22-year career, this professor was fired after controversial tweets
IMAGE: WCVB Channel 5 Boston / YouTube screenshot
Like The College Fix on Facebook / Follow us on Twitter