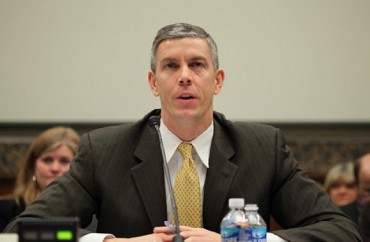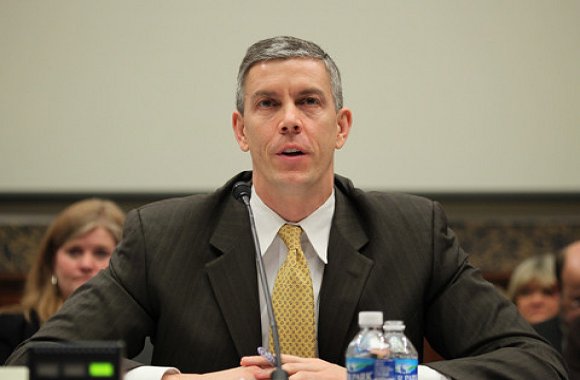 US Education Secretary Arne Duncan's kids will be attending the private University of Chicago Laboratory Schools now that they, along with their mother, have moved back to Chicago.
Duncan will stay in Washington to serve out his term in the Obama administration. His children previously attended the public Arlington, Virginia schools.
The schools, in which Mrs. Duncan will teach, "are progressive institutions that, according to its Web site, 'ignite and nurture an enduring spirit of scholarship, curiosity, creativity, and confidence' and 'value learning experientially, exhibiting kindness, and honoring diversity.'"
They also don't have to go along with the Common Core Standards of which the secretary is a big advocate, nor do they administer standardized test after standardized test.
Further, they do not evaluate their teachers based on (student) test scores. Public schools have to deal with that.
But there are ironies to note here.

While Duncan is interested in making his own family's logistics easy, the very public charter schools that Duncan and his department have supported and pushed for expansion have hastened the closure of many neighborhood public schools, making it more difficult for many families — especially single-parent families — to get their children to schools that are nowhere near their homes. Charter schools have been permitted to open wherever the founders want with no consideration for what cities need to serve all of their students. Charter schools can limit the number of students who attend; traditional public schools can't. As a result, in urban areas where neighborhood schools have been closed, parents must apply to charter schools and hope to get into one that is near them. It doesn't always happen.

Another irony is that Duncan will be sending his children to a private school in a city where he ran the public schools for seven years; he then went on to control federal oversight of the nation's public schools for another seven years. One wonders if there is not a single public school — or public charter school — that Duncan could have chosen after being personally responsible in some way for the improvement of the public education system in Chicago.

Duncan talks a lot about giving parents school choices for their children, and, again, nobody should begrudge his own choices. But they do speak to a pattern among public policy-makers and influential philanthropists who push specific school reforms — such as charter schools, the elimination of teacher tenure, Common Core, and evaluation of teachers by test scores — yet send their own children to private schools that do none of these things. Bill Gates, for example, who funded the creation of the Common Core, sent his children to private school.
President Obama's girls attend the elite Sidwell Friends School where officials there "have said they don't tie teacher pay to standardized test scores because they don't think those scores are reliable indicators of teacher effectiveness."
Again, such policies are for the lowly public schools.
As article author Valerie Strauss says, "On another level, it remains true that these powerful people are removed from the experiences and frustrations of parents who live with the consequences of the policies they set."
Indeed.
Like The College Fix on Facebook / Follow us on Twitter
IMAGE: House Committee on Education Workforce Dem/Flickr