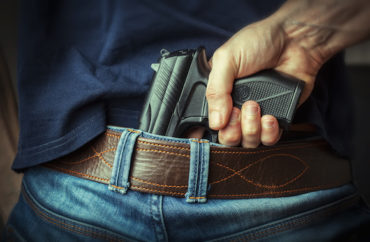 Bill faces opposition from gun control activists
A Florida Republican has introduced legislation that would legalize the concealed carry of firearms on college campuses in that state. The lawmaker has said that self-defense is a "fundamental right" and that the bill itself is "common sense."
The legislation put forth by freshman representative Anthony Sabatini "would allow people with concealed weapons permits, who must be 21 and demonstrate competency with a firearm, to carry guns on any of Florida's college campuses," The Orlando Sentinel reported this month.
Reached via phone, Sabatini said that college students should at least be able to defend themselves on campus if necessary.
"I'm not trying to create a giant security force here with this bill. I'm just trying to do what 12 other states have done. Which is said if you're a competent 21 year-old that's passed a background check, and achieved a concealed weapons permit, then you yourself should be able to carry a gun for your own personal defense," Sabatini told The College Fix.
"It's a very narrow bill, it's a common-sense bill," Sabatini said. He told The Fix that similar laws have been implemented successfully in numerous other states. "Although it sounds like a very divisive issue, when it's been implemented, it's been anything but controversial."
Campus firearm resolutions like these have divided the Florida Republican party in the past. Pushback from one anti-gun group, the Campaign to Keep Guns Off Campus, has already begun.
Asked what the group believes the consequences would be if the bill did pass, Andy Pelosi, executive director of the Campaign, told The Fix via email: "We would be very concerned about the risk presented to students, faculty and staff. Specifically, we believe, and the data bears this out, that you will see an increase in suicide (using a firearm) and accidental discharges at the very least."
Pelosi said that the group does not oppose the presence of armed guards on campus "as long as they are trained like their off campus counterparts." He said that the group is against "programs that provide some firearm training for civilians," such as the Polk County Sheriff's Department's "Sentinel" program.
Pelosi noted that his group is opposed to concealed carry more generally, and that they "certainly oppose what is happening around the country to allow more firearms to be carried in public spaces, including, but not limited to, K-12 schools, college campuses, municipal buildings, libraries, bars/restaurants, etc."
According to the magazine Campus Safety, there are currently 12 states that have legalized campus carry. Another 22 states allow universities to set their own policies regarding gun carry.
Four schools—Atlantic University, Florida Gulf Coast University, Florida State University and New College of Florida—did not respond to The Fix's request for comment asking for their opinion on the proposed legislation.
Sabatini noted that this legislation has appeared in the Florida House before.
"This exact bill passed the Florida House of Representatives overwhelmingly two years ago. It passed 80 to 35… so what we're really talking about is a bill that is going to be successful in the House and already has been successful in the House, but what we need is the Senate to basically open their eyes and realize this is a good bill," he said.
The Sentinel reported that "every time such a bill is proposed, university leaders have been some of the most vociferous opponents to campus carry," but Sabatini dismissed these concerns.
"In [the 12 states where campus carry was passed], none of the things university presidents said would happen [actually] happened," he told the newspaper.
Sabatini told The Fix that his belief in gun rights is part of his own political philosophy.
"I'm a strong defender of the Second Amendment, I believe in self defense. It's a fundamental right, and I'll always fight for self defense," he said.
MORE: Florida sheriff's department trains university employees to carry firearms
MORE: Yes, teachers should be allowed to carry guns
IMAGE: Maksym Dykha / Shutterstock.com
Like The College Fix on Facebook / Follow us on Twitter