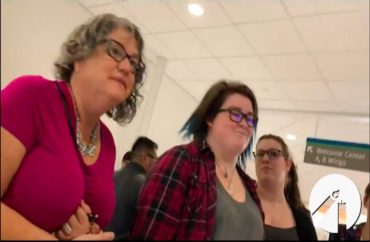 Says pro-life display was 'misleading,' though evidence suggests otherwise
A professor from the College of Lake County in Grayslake, Illinois, has defended her decision to show up to a pro-life event after two brief videos of the altercation were posted on the Students for Life of America's Facebook page.
The pro-life event was part of the #TheyFeelPain tour, a program geared toward educating students on "the barbaric nature of late-term abortion," especially given that "many states are still behind the ball on passing 20-week bans," according to the anti-abortion group.
In the brief clips, Professor Beth Chaitman is seen talking with some of the Students for Life demonstrators. In one of the Facebook posts, Students for Life states that Chaitman "brought her class to come and protest us," something Chaitman disputes.
"It was not during class time. Class had not started. Students came before class and told me and several faculty members what was going on. I said, 'I'm going to get some coffee, and if you want to come, you can come,'" she told The College Fix in an interview via email.
"I wanted to have a conversation because I feel conversation is important. People throw words around, and they don't understand what they are saying. I think abortion is one of those words," Chaitman told The Fix.
"I felt that some of the graphics on display were misleading and could be triggering for many people. This is a college campus, and there are people here going through traumatic situations," Chaitman added.
When asked to describe how the activists' display was misleading, Chaitman told The Fix: "They had a depiction of what they said was a twenty week old fetus, but the image was of a cute little full-term baby."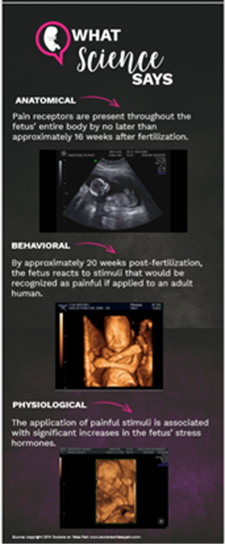 When asked about the "cute little full-term baby" image, Students for Life spokesman Matt Lamb provided The Fix with the display the group was using. "I assume she is referring to this banner," Lamb said via email. That banner purports to depict an unborn human "20 weeks post-fertilization."
Lamb also provided The Fix with a website of an ultrasound clinic that features a gallery of ultrasound photographs of unborn babies. The 20-week images on that website very closely resemble the image used on the Students for Life banner provided to The Fix.
David Cordaro, Students for Life's upper midwest regional coordinator, told The Fix via email that he found Chaitman and her students to be misinformed.
"The most striking part of the conversation was that the students and professors were sorely mistaken on many basic facts about abortion," Cordaro said. "For example, they claimed that forced abortions were not real, and they also believed in the myth that only 3% of Planned Parenthood's work is abortions."
The College of Lake County has since issued a statement regarding the incident. In an email to The Fix, campus spokeswoman Anne O'Connell stressed the college's respect for freedom of speech but also offered an apology of sorts.
"The College of Lake County respects individual rights for Freedom of Speech. The College encourages and supports civil dialogue that encourages reflection on multiple viewpoints around controversial matters," the statement read.
"The dialogue in the video represents the personal views of an individual and not those of the College. To the students, we apologize for the disrespectful manner in which the views were shared. CLC will continue its efforts to engage the entire college community in upholding its values of diversity, integrity and accountability."
In her interview with The Fix, Chaitman said that the conversation was at least partly productive. "At the beginning it was productive. One of the women was talking about the forced sterilization of native americans, and we said 'We support you in that, no one should be forced to do something to their body that they don't want to do' with ellipses implying that that goes both ways. I think we opened a mind or two."
"There is something positive to say on both sides of the argument, and if we can open our minds and ears, then hopefully something productive can happen," Chaitman added. "I appreciate an open dialogue on college campus, and that there are multiple sides to issues. College is a place for higher learning and for us to understand that there is validity on the side that isn't necessarily our opinion."
MORE: Canadian professor's art project seeks to make abortion 'visible, audible, and palpable'
MORE: Pro-abortion professor won't say if unborn humans are human
IMAGE: Students for Life of America / Facebook
Like The College Fix on Facebook / Follow us on Twitter