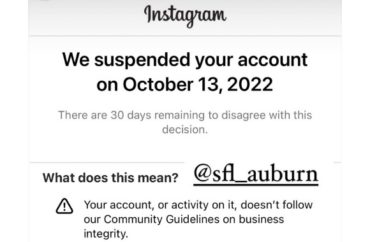 UPDATED
Student calls it 'scary reminder' of Big Tech's power
Instagram permanently suspended an Auburn University pro-life student group's account after it posted a graphic to promote the March for Life, an annual event in D.C. that calls for the end of abortion.
The College Fix checked Auburn Students for Life's account on October 31 and confirmed it is still banned, two weeks after Young America's Foundation first reported on the punishment.
The Big Tech company notified Students for Life at Auburn University that its account would be banned for failure to adhere to "Community Guidelines on business integrity."
"We were banned permanently for a regular post promoting the March for Life," Samuel Hass, a board member with the campus pro-life group, told YAF.
"This is a scary reminder how much power these corporations wield over our lives," Hass stated, according to YAF.
Auburn SFL, in a statement provided to The College Fix on Tuesday, said that on Oct. 13, their social media director appealed Instagram's decision and asked for further clarification. The next day, Instagram responded saying that a potential reason for the ban was that the group "pretended to be someone else," student President Gwen Charles said via email.
"Our Social Media Director responded to Instagram stating why we should get our account back. Since then, we have heard nothing, and our account remains banned," Charles said.
"This type of big-tech censorship is nothing new to the pro-life movement. … Small groups like ours must not remain silent when it comes to this censorship. Our group has informed our over 130 members of this and we have encouraged them to continue speaking up for life, on social media and in person. If we are going to ultimately win, we need to continue to work to change hearts and minds about abortion. The Truth is that abortion ends a human life, and we long for the day when it is illegal and unthinkable. Our chapter is more motivated than we have ever been in the fight for life," Charles added.
The action by Instagram, owned by Facebook, appears to have been sparked by a routine announcement on the group's account, which informed followers that registration was open for the pro-life rally in Washington, D.C.
The student organization appealed the action seeking to have its account restored.
The Fix reached out to Instagram to ask why the account was determined to have violated guidelines and if there was an update on the status of the appeal. Instagram did not respond to two requests for comment sent in the past week.
MORE: Universities get $3 million from feds after helping censor election integrity stories
The silencing of pro-life organizations by Big Tech is nothing news, according to one advocacy group.
"Pro-life groups and those that aren't aligned with the marching orders of the far-left Big Tech oligarchs are censored far too often," Internet Accountability Project President Mike Davis told The Fix.
"The only way to hold Big Tech accountable for their actions is to break them up and allow for more competition in the marketplace, and thus, more free and fair debate," the former Senate Judiciary Committee counsel told The Fix.
The IAP founder also said that healthy back-and-forth dialogue doesn't exist in Big Tech.
"Currently, there is no room for debate on these platforms, and if you try to debate, you're shut down before a point comes across," Davis said.
He encouraged groups that have experienced censorship to push back on big tech.
"Censored groups must continue to fight back against this tyranny from Big Tech and never let a suspension shut them down, since Big Tech's ultimate goal is for a one-party state," Davis said in his emailed comments.
Conservative students and groups across the country are not only being censored by Big Tech but by their own universities as well.
A Friends University student was forced to take her anti-censorship project off campus after school officials voiced "content concerns." At Southern New Hampshire University, a GOP student group alleged that the school placed restrictions on a candidate it was hosting by citing a "controversial speakers" policy.
Instagram also censored advertisements from Catholic professor Carrie Gress that promoted her book critical of feminism.
Editor's note: This article has been updated to add a comment from Auburn Students for Life provided after publication. 
MORE: Students create 'Tribe for Death' group to harass pro-life peers
IMAGE: YAF
Like The College Fix on Facebook / Follow us on Twitter