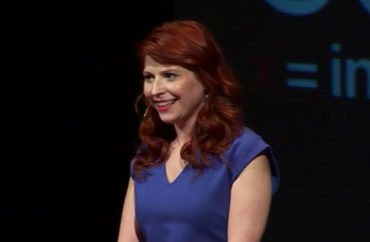 'A reasonable jury could find' she knew but didn't correct the record
Ohio State University had terrible luck with U.S. District Judge James Graham over the past few years.
The day before Donald Trump's election, the federal judge refused to dismiss the lawsuit against the public university by a student found responsible for sexual assault.
It claimed that the student's hearing panel got "biased training" – dubious statistics about most men admitting to "sexually aggressive behavior" – and administrators hid "exculpatory evidence" from "John Doe," including the suspicious timing of his accuser's claim.
A year and a half later, Judge Graham hit a Title IX official with distressing news: She could be held personally liable for helping the accuser lie to the panel.
"A reasonable jury could find that Natalie Spiert" (below), a sexual violence support coordinator who served as advocate for "Jane Roe," "knew or should have known that Jane Roe lied or misled the disciplinary board" and did not correct the record, the judge said in April.
Ohio State certainly saw this wasn't going to end well. In a "stipulation of dismissal with prejudice" filed with Graham's court Thursday, Attorney General Mike DeWine (representing the government university and individual defendants) and Doe's lawyer Joshua Engel agreed to settle claims and bear their own costs.
The "prejudice" condition means Doe can't bring the suit again. Presumably, he got a settlement that starts to make up for three years in court seeking to clear his name. (Engel declined to comment to The College Fix.)
Let's take a brief trip down memory lane to look at why Brooklyn College Prof. KC Johnson, co-author of The Campus Rape Frenzy, called this case "deeply troubling" even by the low standards of campus kangaroo courts.
Accuser was about to get kicked out of school
Doe's accuser was on the verge of getting kicked out of medical school for sustained academic failure when she first claimed Doe – on the verge of graduating from med school – had raped her 10 months earlier.
Her own texts undermined her claims to be incapacitated, and she continued conversing with Doe and even meeting him in person for months after the alleged rape. She offered to take him out for his birthday and sent a "playful text about [Doe's] muscles." She hugged him at their last meeting.
Spiert knew the timeline of Roe's decision: She reported the incident after she was warned she was about to flunk out and very much had something to gain by doing so, contrary to her claims. This information was hidden from Doe, who had no evidence to provide why she would lie.
The judge refused to dismiss Doe's allegation he was deprived due process because he was banned from cross-examining Roe about her "motive to lie." As Graham summarized in April:
Jane Roe represented to the [Academic and Behavioral Review Committee] that she was already in the process of formally reporting the sexual assault. Therefore, a reasonable jury could find that her testimony to the disciplinary board, that the [committee's] decision to permit her to re-enroll was already decided before Roe's "decision to report the assault," was not truthful.
The case is featured in Johnson's book with former Brookings Institution scholar Stuart Taylor. Multiple university officials, including Spiert, testified at a preliminary injunction hearing that they didn't know if they had an obligation to ensure a fair process or even correct false information.
One of the defendants was even fired by the university for coaching accusers to exaggerate their claims, according to Johnson.
MORE: Judge rules Spiert can be personally liable for helping Roe lie
With a settlement in the long-running due process lawsuit against @OhioState, a para. from the book. At the prelim. injunction hearing, multiple OSU officials testified they *didn't know* whether they had an obligation for a fair process, or to correct untruthful testimony. pic.twitter.com/XrzllrvC6D

— KC Johnson (@kcjohnson9) September 20, 2018
'Told survivors they needed to embellish their stories'
Spiert's problems go beyond Graham's rulings. Ohio State shut down her office, the Sexual Civility and Empowerment unit, and terminated its four employees including Spiert at the end of this school year.
It had been under internal investigation for two years before the university suspended the office in February, according to The Columbus Dispatch.
The Ohio Health Sexual Assault Response Network of Central Ohio, known as SARNCO, told the university it had received reports that office staff "have written student conduct and other legal documents" and "told survivors they needed to embellish their stories."
Documents reviewed by The Lantern found a "pattern of bullying, preferential treatment and lying" alleged against the office's leaders, including Spiert, who had the title of assistant director when it closed.
A former support coordinator, Jill Davis, complained to the human resources office in 2016 that Spiert was "exaggerating her own abilities," boasting she'd eventually run the office, falsely claiming she had received certain training and ignoring "evidence-based plans in lieu of her own experience" after finishing graduate school in 2015.
More troubling, Davis said Spiert told athletics coaches in a presentation that she knew they would "go home and beat their wives." Spiert was an equal-opportunity bully, badmouthing SARNCO and even an OSU Title IX coordinator, according to Davis.
Spiert's boss Karen Kyle, director of the Student Advocacy Center, swept these concerns under the rug and had "limited experience and knowledge of sexual violence prevention and response," Davis said.
If Spiert were prejudging coaches as wife-beaters, she and office staff were also mistreating students who reported sexual violence:
Claims included that SCE had told those using the services various things, including that they were "lying," "delusional," "suffering from mental illness," "have an active imagination," that they "didn't understand their own experience" and also "fabricated their story."

People were also told that they would not receive support for reasons such as they were not "deemed 'credible,'" that they demonstrated they were not "ready to heal," that they would not "disclose the identity of the perpetrator" and because they "refused to work with a psychotherapist and/or participate in 'co-treatment' with [an] SCE advocate."
Spiert's digital presence appears to have largely gone missing, including her LinkedIn page, which still comes up in a Google search for her. A YouTube channel attributed to Spiert remains live, though.
The only video, posted shortly before Graham's first big ruling against OSU, is titled "Book Launch," but doesn't mention any book. Spiert does not appear to have practiced before recording the video, stumbling in several places.
"I'm looking at the root cause that it's creating the epidemic occurring on college campuses. Who is to blame? Is anyone to blame?" she says.
"Are our students lacking sex education? Is this a contributing factor to why they are not able to engage in healthy sexual interactions with their peers? And who's held responsible for educating them?"
She believes in "challenging what's already been out there … create innovative ideas, ways to intervene, ways to establish communication across our peers and our administration."
The "communication" emphasis appears to have been reflected in the office's programming, which said rape was "a miscommunication which can be prevented by teaching respectful communication, civility in the community and sexual pleasure," according to a document reviewed by The Lantern.
Spiert's video description appears to validate some of the complaints by Davis, the former support coordinator. It says that Spiert "constantly dismantles obstacles caused by bureaucracy and ignorance." The description also cryptically refers to a "Holistic Healing Model" that Spiert claims to have invented.
It's quite the fall for Spiert, who even gave a TEDx Talk in 2015.
MORE: Graham approves Doe's claims on 'biased training,' 'exculpatory evidence'
IMAGE: TEDx Talks/YouTube
Like The College Fix on Facebook / Follow us on Twitter