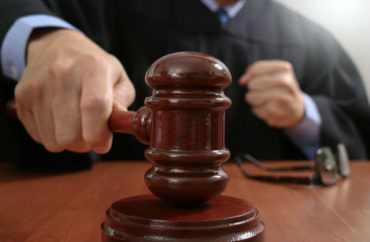 Mocks idea that 'mere invocation of the First Amendment' is enough to sue
Students have no credible reason to fear the University of Texas-Austin will punish them for their speech, a federal judge ruled Tuesday.
U.S. District Judge Lee Yeakel threw out the lawsuit against the public university by a free-speech nonprofit, signaling trouble for Speech First's future use of anonymous student testimonials.
"Speech First asks this court to hold that the mere invocation of the First Amendment will suffice for standing purposes," Yeakel wrote skeptically, referring to the group's argument that it can bring suit on behalf of its unnamed student members.
It's the first major loss for Speech First since it launched a legal crusade against bias response teams and other speech-chilling policies at public universities a year ago.
Its lawsuits continue against the University of Michigan and University of Illinois, though Speech First lost a motion for preliminary injunction against the former last summer. The UI suit was filed last week.
'Speech First presented no evidence'
When it sued UT in December, Speech First went after the Campus Climate Response Team, verbal harassment rules, the campus technology Acceptable Use Policy, and UT's residence hall policy on "civility."
It faced skepticism from Judge Yeakel at oral argument in March. Speech First lawyer Cameron Norris had argued that the combined threat from the four policies gave the group standing, in spite of no evidence that UT had punished students for their speech.
Yeakel both rejected the group's motion for preliminary injunction and dismissed its claims against UT President Greg Fenves, the only remaining defendant, "without prejudice." That means Speech First can bring suit again.
MORE: UT unconstitutionally bans 'rude' and 'insensitive' speech
"As the judge noted in his decision, Speech First presented no evidence that any students at UT had 'been disciplined, sanctioned, or investigated for their speech,'" UT Director of Media Relations J.B. Bird wrote in a statement to The College Fix.
But the university has a "shared dedication" to free speech along with the three unnamed students, he continued: "Free speech is essential for The University of Texas at Austin to carry out its mission as an institution of higher education, and the university is proud of its work protecting the free speech rights of all members of its community."
Speech First made clear it's not finished with UT. "Speech First looks forward to the next phase of the case before the U.S. Court of Appeals for the Fifth Circuit and vindicating the First Amendment rights of our members," President Nicole Neily told The Fix in an email.
University of Texas beats First Amendment lawsuit by students by The College Fix on Scribd
University tells students to use 'more free speech' when offended
Judge Yeakel's ruling shot down all of Speech First's arguments, finding the policies either don't threaten speech or haven't been demonstrably enforced against students.
The Campus Climate Response Team does "not engage in investigations or punishment of any sort," the judge said flatly.
In reaching this conclusion, he rebutted Speech First's claim that "training, re-education, dispute resolution, or 'referral' for formal discipline by a CCRT 'partner'" qualified as punishment. Speech First had pointed out that a court struck down a Rhode Island "morality commission" that operated similarly to UT's CCRT.
Speech First failed to show any students that were disciplined, sanctioned or investigated for their speech, meaning their self-censorship stemmed from a fear of punishment that was "imaginary or wholly speculative."
MORE: U. Illinois uses bias policies to silence conservative students
Speech First had argued that the verbal harassment policy chilled speech by failing to provide objective guidance on what speech was punishable. But Yeakel pointed out a "very important caveat": The policy exempts political, religious, philosophical and ideological arguments, and lays out examples of harassing speech.
The residence hall manual's supposedly overbroad definitions of harassment are countered by its actual language, the judge said. It says "[s]tudents who passionately disagree about important matters should be able to confront one another civilly … The best response to offensive speech is more free speech."
Speech First did not meet any of the prongs for a preliminary injunction, Yeakel continued, including substantial likelihood of success on the merits and threat of irreparable harm to the anonymous students.
Can't show 'imminent, non-speculative irreparable injury' from discussing Trump
In order to have "associational standing" in this First Amendment context, Speech First would have to show that its student members faced a "credible threat of prosecution or self-censorship that is objectively reasonable."
The group's argument boils down to "the mere existence of an allegedly vague or overbroad statute is an injury in itself," Yeakel said. Citing Google's failed attempt to block Mississippi from bringing potential enforcement action against the company, the judge said the "invocation of the First Amendment cannot substitute for the presence of an imminent, non-speculative irreparable injury.'"
Though past enforcement is not an "absolute requirement for standing," a credible threat of enforcement is "critical," he added, citing the 4th Circuit. (Yeakel is bound by 5th Circuit precedent, as Neily noted, but judges often cite other appeals courts that have ruled on the same issues.)
Speech First had claimed that anonymous students A, B, and C wanted to discuss and debate topics such as President Trump, the #MeToo Movement and illegal immigration, but could face punishment under university policy.
MORE: UT student petition demands removal of conservative group
In a footnote, Yeakel took issue with not having any identifying information about the anonymous students, though it wasn't clear whether their identification would have changed his ruling.
Quoting a 5th Circuit ruling against the Mississippi Democratic Party, Yeakel said standing was "not created by a declaration in court pleadings." Speech First has provided nothing more than "generalized declarations of broad categories of speech in which Students A, B, and C wish to engage."
Yeakel further claims that the students' desired topics of discussion are in fact "not prohibited by the language of the Institutional Rules, the Residence Hall Manual, or the Acceptable Use Policy." He pointed to "substantial evidence" provided by the university at the March hearing and before, "that no such history of punishment exists."
Dean of Students Soncia Reagins-Lilly had testified that UT "has not sanctioned any students for the content of their speech," and that its references to civility are "community norms that cannot be enforced by disciplinary rules," the judge noted.
MORE: Judge sees no 'implicit threat' to speech from UMich bias team
IMAGE: everything possible/Shutterstock
Like The College Fix on Facebook / Follow us on Twitter