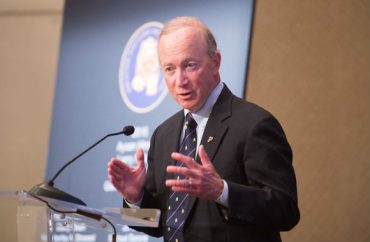 Purdue can't escape from the Groundhog Day of violating the same student rights
Last year the 7th U.S. Circuit Court of Appeals ruled that Purdue University had put an accused student through a "fundamentally unfair" Title IX proceeding.
It didn't review the investigative report before finding him guilty of sexual assault. It hid the report from him. It didn't require his accuser to submit testimony or attend the adjudication hearing, much less submit to cross-examination. It ignored his accuser's ulterior motive for accusing him.
The public university led by Mitch Daniels (above), the former Indiana governor and longed-for presidential candidate, doesn't appear to have learned anything from that ruling. And it's time that Daniels, perhaps the most innovative university president in the country, get his house in order or risk a tainted legacy.
A federal judge has rebuked the taxpayer-funded institution for claiming she has no jurisdiction over a Title IX due process lawsuit by another accused student, and allowed all but one of the student's claims to go forward.
As in the 7th Circuit ruling, Purdue's conduct was so outrageous that U.S. District Judge Theresa Springmann didn't even have to reach the question of whether "John Doe" has a constitutional right to cross-examine witnesses. His procedural claims were enough to survive the university's motion to dismiss.
Brooklyn College Prof. KC Johnson, who chronicles Title IX litigation, tweeted this was the 179th "favorable decision" for an accused student since the Obama administration's infamous "Dear Colleague" letter to colleges, which prompted them to adopt the procedures ripped to shreds by so many courts.
As occurred in CA7 Purdue ruling, district court declines to consider the x-examination issue b/c Purdue's process was unfair in so many other ways to acc'd student. pic.twitter.com/GJwlQFCZnG

— KC Johnson (@kcjohnson9) June 1, 2020
According to John's version of events, John and "Jane Roe" got intimate at a party in August 2018 and went back to her dorm room to ramp up the amorous activities, but stopped before they had intercourse. A resident advisor heard her claim that he sexually assaulted her and reported the incident.
John's suspension letter claimed that he repeatedly violated Jane's consent both at the party and her dorm room. Christie Wright, who has since been promoted to director of the Office of Institutional Equity, and investigator Jeff Rooze showed no interest in exculpatory evidence and refused to provide John "security camera film" that would cast doubt on Jane's story.
The university refused to give him a copy of the preliminary report and "recordings, documents, and other information gathered during the investigation," simply allowing him to take notes on the report in a "secure location." The report left out exculpatory evidence completely, according to John.
In response to John's dispute of that report, Wright and Rooze prepared a "concealed report" that they gave to the adjudication panel but again hid it from John.
The panel only heard testimony from Wright, Rooze, John and Jane, though it wouldn't let John hear their testimony, much less cross-examine them. He claims his dispute of the preliminary report was left out of the written materials they considered, and none of them asked him about exculpatory evidence.
MORE: 7th Circuit rebukes Purdue for hiding evidence, likely anti-male bias
Dean of Students Katherine Sermersheim (left), who convened the panel, "posed numerous questions and comments based upon sex-based stereotypes," as did another panel member.
John appealed the panel's guilty verdict and his expulsion, arguing Jane's story was "inconsistent and contradicted by several bystanders" and that the panel violated Purdue's own rules. Vice President for Ethics and Compliance Alysa Rollock overturned the findings from the party but not Jane's dorm room, leaving his expulsion intact.
John's expulsion means "it will be nearly impossible" for him to "obtain the necessary educational and licensing qualifications for his chosen profession" of lawyer or financial professional, he said.
Judge Springmann noted the "immense pressure" Purdue was under in the months around John's case: four sexual misconduct lawsuits by female students, related campus protests, "negative media coverage" and a Department of Education Title IX investigation that could cut off Purdue's federal funding.
John claimed Purdue would file its own complaints against male students (but not female students) even if the alleged victim refused to do so, and it treated "similarly situated female students" better when they were accused, either not charging them or penalizing them "to a lesser degree," according to the judge.
Purdue repeatedly ignored recent 7th Circuit precedent against the university
Springmann was not moved by Purdue's claim that this was not a federal matter, noting that John made Title IX and multiple 14th Amendment claims.
She cited back to the 7th Circuit ruling against Purdue, noting that "it is likely that the injury [expulsion and transcript notation] will be redressed by a favorable decision" for John in her court. Its "ripeness" argument is also contradicted by the 7th Circuit.
The judge continually returned to that decision, implying Purdue chronically ignored not only binding caselaw but findings against the university from within the past year. Both cases involve students deprived of their "protected liberty interest" in their chosen career field and forced to disclose the guilty findings.
Finally, district court (in the first acc'd student lawsuit in the circuit to apply the due process section of the CA7 opinion) construes the CA7 opinion's liberty interest section v. broadly to allow lawsuit to proceed. pic.twitter.com/7XnYpRDvlJ

— KC Johnson (@kcjohnson9) June 1, 2020
No different from the earlier case, Purdue hid evidence from the accused student, including the "concealed report" that followed his objections and was given to the panel: "[T]he disciplinary process was fundamentally unfair."
The university cited an earlier state appeals ruling in its favor that precluded an accused student from bringing federal claims, finding that the state claim provided "a meaningful post-deprivation remedy." But the 7th Circuit explicitly knocked this down in last year's similar ruling, Springmann said.
She disagrees with the "logic" of that state appeals ruling, calling the state-law remedy "inadequate to the point that it is meaningless or nonexistent": Indiana gives broad leeway to universities to interpret their contracts with students, meaning students don't have "a meaningful post-deprivation remedy."
Seventh Circuit caselaw also favors John's equal-protection claims that Purdue takes the initiative for allegations against males but requires alleged victims to file complaints against females. Judge Springmann said that "selective inaction can be strong evidence of discriminatory intent."
His allegations about sex-based stereotypes in the hearing suggests that Purdue "acted with a nefarious discriminatory purpose and discriminated against him based on his membership in a definable class," she continued. Purdue was also under the same public pressure in last year's case at the 7th Circuit.
Purdue's only relief from the judge concerned John's pursuit of monetary damages. He is still allowed to seek "the requested injunctive relief" – reinstatement to Purdue and removal of the guilty notation from his transcript.
MORE: 6th Circuit says Title IX trials should be more like 'My Cousin Vinny'
IMAGE: James O'Gara Photography, Purdue University
Like The College Fix on Facebook / Follow us on Twitter