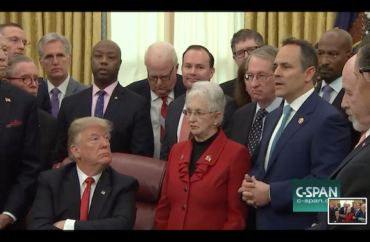 Bill follows in the footsteps of other states 
Kentucky Gov. Matt Bevin signed a bill into law this week that pushes public universities in the state to protect free speech by doing away with free speech zones on campus and protecting the rights of political and religious student groups. The state joins the growing number of legislatures acting to protect free speech on their public university campuses.
The bills vary from state to state, as the Foundation for Individual Rights in Education's legislative counsel Tyler Coward explained in an email to The College Fix. They range "from solely banning the use of misleadingly labeled 'free speech zones' to requiring institutions to adopt the Supreme Court's standard for student-on-student harassment or prohibiting institutions from 'disinviting' speakers invited by student groups or faculty."
Kentucky's bill opens all outdoor areas to student speech and empowers students to take legal actions against the university if the law's requirements are not followed.
According to the bill's language, schools are prohibited from disinviting speakers invited by students because "the speaker's anticipated speech may be considered offensive, unwise, disagreeable, conservative, liberal, traditional, or radical by students, faculty, administrators, government officials, or members of the public."
It also protects a student's religious or political viewpoint in the classroom, forbidding discrimination or penalties on a student's work for its political or religious content.
At official school events, the remarks of invited student speakers will not be altered, unless at the request of the speaker, the bill stipulates. Student speakers are prohibited from engaging in "obscene, vulgar, offensively lewd, or indecent" speech, according to the bill, and it also requires universities to clarify that students' views are their own if they could be reasonably interpreted as affirmed by the university.
The bill also prevents administrative interference in student religious or political groups:
No recognized religious or political student organization is hindered or discriminated against in the ordering of its internal affairs, selection of leaders and members, defining of doctrines and principles, and resolving of organizational disputes in the furtherance of its mission, or in its determination that only persons committed to its mission should conduct such activities.
Finally, the bill prohibits schools from charging students for speaker fees based on the viewpoint of the speaker.
The bill was sponsored by Republican Rep. Stephanie Maddox in the state House, and Sen. Will Schroder in the Senate.
The passage comes on the heels of other efforts to protect free speech on campus in other state governments and at the federal level.
MORE: Kentucky passes legislation to protect free speech on campus
South Dakota recently signed a bill into law designating all outdoor areas on its six public campuses areas for free speech, and Tennessee and Colorado did the same in 2017. Iowa and Arkansas have also passed similar laws over the past few months.
President Trump signed an executive order last week restricting federal research funds to public universities that do not support free speech.
However, Coward wrote that these laws are long in the making and are not a response to Trump's executive order.
"Over the past several years, a large number of states have introduced and passed campus free speech bills," he wrote. "It's clear that legislators are paying attention to censorship on campus and are properly searching for legislative solutions to require that public institutions of higher education in their state revise their unconstitutional speech codes."
"Most of the states that have campus free speech bills pending in the legislature saw those bills introduced early in their legislative session — as many as two or three months before the President announced or signed the executive order," he continued.
"The Executive Order on campus free speech reflects an ongoing concern in many states that students' constitutional rights to free speech are not being adequately protected," Zack Pruitt, the legal counsel for the Alliance Defending Freedom wrote in a statement to The Fix.
"Fortunately, several states such as Arkansas, Kentucky, Iowa, and South Dakota have recently passed legislation prohibiting 'speech zones' while protecting free expression and association on campus, and others will be considering similar legislation in the weeks ahead."
Prominent universities including the University of Kentucky, Morehead State University, and Murray State University will be affected by the law, according to a FIRE press release.
MORE: Yes, there is a free speech problem on campus
IMAGE: C-SPAN
Like The College Fix on Facebook / Follow us on Twitter