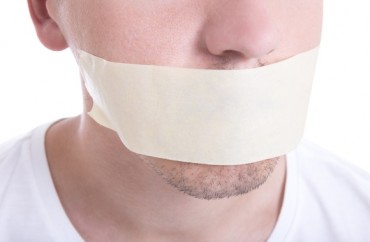 On the home page of The College Fix today, one of our reporters shares a personal experience she had at Boston University in which her call for more debate and free expression of different ideas on campus was shut down by her liberal peers.
Over the years, we have covered hundreds and hundreds of examples in which words, ideas, snapchats, artwork, texts, party themes, Halloween costumes, guest speakers, lecture topics, monuments, phrases, handouts and more — even the U.S. Constitution — have been censored on campus.
Sometimes they are outright forbidden. Other times campus campaigns discourage their use. In the case of artwork and monuments, they're removed or covered or relocated. In some instances, outrage among students and administrators is used for the suppression of words, thoughts and actions.
What's more, right-of-center clubs are charged astronomical fees to host guest speakers while Leftist speakers raise nary an eyebrow. The conservative speakers who do make it on campus are often shouted down. In the past, raucous protests have been so out of control speaking events are cancelled. And disinvitation examples of campus speakers over the years is at nearly triple digits, if it hasn't crossed that threshold already.
Universities also require students to get permission to express themselves in the quad. Campuses designate "free speech zones" that amount to minuscule portions of the campus. Wildly subjective and vague student codes of conduct often forbid harsh words or mean comments some may deem discriminatory.
Bias response teams that are akin to modern-day thought police take in reports of offensive speech on campus and address such infractions with various re-education efforts.
And these are just the examples that are above the surface.
Over the years I've talked to many students who keep their mouths shut in class for fear of upsetting their professor and having their grade docked. Essay writing is another example of this, where students tell me they simply regurgitate what their professors want to hear rather than expressing their true thoughts in writing assignments. For every one student I hear this from, there are probably thousands more like them.
The College Fix has a news category called "free speech." Over the last eight years, there have been roughly 1,750 published posts under this topic, and 95 percent of them describe a case in which free speech, freedom of expression or similar freedoms have been hindered on campus. The remaining 5 percent represents legal or procedural victories by students and campus groups that fought for their free speech rights, and won, as well as when universities amend their policies to protect the First Amendment.
President Donald Trump, during his Conservative Political Action Conference speech Saturday, pledged to issue an executive order to deny federal research funds to colleges and universities that do not support free speech. It remains to be seen what the details and provisos of such an order might be — but make no mistake — the overall suggestion addresses a real and pressing issue facing higher education today.
The First Amendment to the U.S. Constitution guarantees the right to free speech, and most public universities must follow that rule. In fact, when groups like the Foundation for Individual Rights in Education and Alliance Defending Freedom sue public universities for violating students' rights in that regard, they pretty much always win.
Private universities have more leeway in clamping down on free speech rights, however, and one way to hold them accountable to the First Amendment might be through something Trump is proposing, because federal grant funding is a major lifeblood for private universities.
Colleges and universities are supposed to be marketplaces of ideas, but today they often resemble re-education camps that favor Leftism. Something needs to be done. While any good right-of-center intellectual is always wary of Big Government solutions, the protection of freedom of thought, speech and expression on campus is crucial in order for young people to hear ideas that counter the Left's narrative.
Truth be told, not even executive orders may be able to solve this problem. Case-in-point: University of South Dakota's board of regents recently approved a sweeping new policy that aimed to protect free speech and expression at its public universities — yet just a few months after its passage a student group was pressured by administrators to nix the theme of their "Hawaiian Day" party, citing cultural appropriation.
And how can we protect students who keep quiet in class lest their grades be docked?
Whether it's disagreeing with a liberal professor, wearing a costume someone finds offensive, using the word "illegal alien," carrying a "Make America Great Again" poster in the quad, passing out Constitutions, using someone's biological gender instead of their preferred pronoun — these rights need to be protected.
Universities talk out of both sides of their mouth. They praise free speech and claim to defend it, yet use PC language campaigns, bias response teams, administrative pressures, censorship and other means to suppress it. Enough is enough.
MORE: UC Berkeley rips critics in newly released statement
Like The College Fix on Facebook / Follow us on Twitter