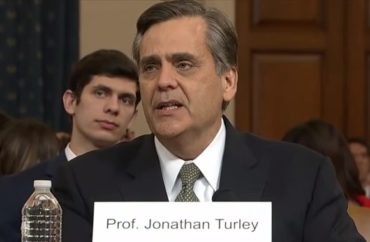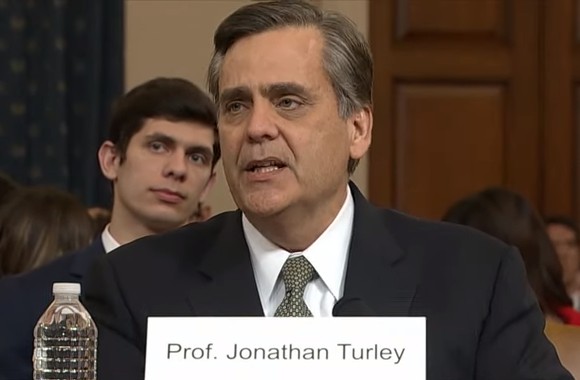 Admits he was 'a tad naive'
Jonathan Turley has testified in two presidential impeachment inquiries two decades apart.
The George Washington University law professor is promoting a skeptical view of the effort against President Trump, testifying to the House Judiciary Committee this week that the process has been too rushed and too limited to be credible.
It's evidently not a popular view.
Before he had even finished testifying, "my home and office were inundated with threatening messages and demands that I be fired from George Washington University," Turley wrote in an op-ed in The Hill Thursday.
He did not immediately answer a tweet or email from The College Fix asking if he had reported the threats to campus police and who was demanding his firing.
The Fix has also asked university media relations if it's investigating the threats and whether it has asked other law enforcement for help, such as the DC Police Department and FBI. The latter's help seems to be increasingly sought by universities investigating racist graffiti with no explicit target, including Syracuse.
Turley wrote in The Hill that he remained "a tad naive in hoping that an academic discussion on the history and standards" of impeachment, one of his academic specialties, "might offer a brief hiatus from hateful rhetoric on both sides."
Judging by the threatening messages and calls for his firing, his call for "greater civility and dialogue may have been the least successful argument I made to the committee," he wrote.
MORE: Turley denounces 'microaggression rules' on campus
Most of Turley's column served as a defense of his testimony in light of criticism that he felt to be ignorant or to reflect hostility toward the presumption of innocence. He shamed Rep. Eric Swalwell, the allegedly flatulent former Democratic presidential candidate, for saying Turley shouldn't have previously represented a judge who was facing impeachment yet was never charged.
Cable news personality Rachel Maddow also implied accused people shouldn't have legal representation, he said. Washington Post pundit Dana Milbank mischaracterized Turley's 52-page submission "on the cases and history of impeachment" as being "primarily emotional and political," and falsely claimed Turley had contradicted himself from a 2013 hearing on President Obama's liberties with executive power:
But I was not speaking of an impeachment then. It was a discussion of the separation of powers and the need for Congress to fight against unilateral executive actions, the very issue that Democrats raise against Trump. I did not call for Obama to be impeached, but that is par for the course in the echo chamber today in which the facts must conform to the frenzy. It was unsettling to see the embrace of a false narrative that I "contradicted" my testimony from the Clinton impeachment, a false narrative fueled by the concluding remarks of Committee Chairman Jerry Nadler of New York quoting from my 1998 testimony. Notably, neither Swalwell nor Nadler allowed me to respond to those or any other attacks. It was then picked up eagerly by others, despite being a demonstrably false narrative.
Rather than respond to Turley's careful argument about the appropriate thresholds for impeachment – including a sufficient evidence record and no artificial deadlines – "critics have substituted a false attack to suggest that I had contradicted my earlier testimony during the Clinton impeachment," which concerned a court's finding that the president had perjured himself, Turley said.
The main difference between then and now is that congressional Democrats thought President Clinton was above the law when found guilty of perjury, while they think President Trump is not when accused of vague "abuse of power."
Read Turley's column and his 52-page testimony.
MORE: Turley fact-checks critics of university's 'Colonials' nickname
IMAGE: ABC News/YouTube
Like The College Fix on Facebook / Follow us on Twitter