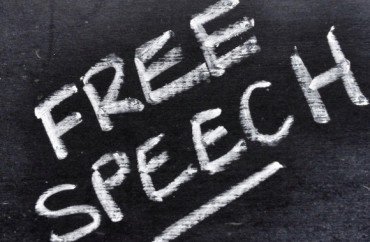 District will open its campuses to free speech
In a victory for free speech rights on campus, the Los Angeles Community College District will eliminate its colleges' free speech zones to settle a lawsuit with a student.
In November 2016, Los Angeles Pierce College administrators stopped student Kevin Shaw from handing out Spanish-language pocket Constitutions on campus. Shaw was handing out the copies outside of the school's mandated free speech zones. After the election, a large anti-President Trump rally was held on campus outside of the zones.
Shaw filed a lawsuit against the district, the largest in the country, for forcing students to restrict their speech to free speech zones. The district's policy requires the president of each college to designate a free speech zone on campus. Outside of the zone is a "non-public forum."
The zone was a 616-square foot area on a 426-acre campus.
The lawsuit sought to have the courts declare the free speech zones unconstitutional for restricting the speech of students.
The case gained the attention of the Trump administration in 2017, when then-Attorney General Jeff Sessions announced that the Justice Department would support Shaw's lawsuit and enter a statement of interest in the case.
According to the Foundation for Individual Rights in Education, which sponsored Shaw's lawsuit, the district's board of trustees voted Wednesday to "open the main areas of Los Angeles Pierce College to student expression" and revoke the district-wide policy on "non-public forums."
"Though it was not without its difficulties, this experience has left me optimistic about the guiding principles of my country," Shaw said in FIRE's press release. "Folks of all political dispositions rallied behind this case to declare in no uncertain terms: freedom of speech is essential to the educational process."
The district's board of trustees will revoke the policy that required the creation of free speech zones, and will also pay Shaw's attorney fees as part of the settlement.
MORE: Judge refuses to toss free speech lawsuit
MORE: Nine out of 10 schools restrict speech, survey finds
IMAGE: Shutterstock
Like The College Fix on Facebook / Follow us on Twitter