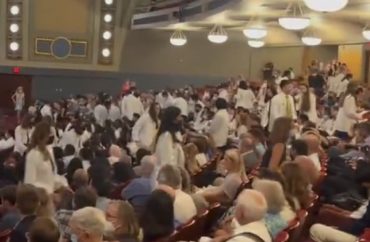 The past two years has taught us that many medical professionals live in their own world
The medical students who walked out of a neutral, non-political speech by a University of Michigan professor who holds pro-life views probably will not be very good doctors unless they reassess how they take in information.
Dr. Kristin Collier opposes abortion, but there's no indication she's necessarily conservative on other issues.
She wasn't even going to talk about abortion at the recent White Coat Ceremony, but her views on the issue (she's against killing babies) was enough to get medical students to flee the ceremony.
It'd be simple enough to chalk this up to another example of leftist students who were intolerant of other viewpoints, but there's a bigger problem here – some healthcare professionals live in an echo chamber.
The past two years and more of COVID lockdowns and hypocrisy (COVID spreads at churches but not at Black Lives Matter protests!) has caused many people to be skeptical of the medical establishment.
Medical students who joke about harming patients who don't believe in personal pronouns and school pediatricians who pose as vaccine experts probably did not help either. Neither did surgeons general who tell people not to buy up masks and then say if you don't wear a mask you're harming others.
It's not that a student who walks out of a speech because the speaker is pro-life will not have the technical skills to stitch someone up or create a treatment regime for cancer.
But they currently would seem to lack the ability to be open-minded and consider other viewpoints. This will harm them in their ability to provide quality medical care.
Doctors need to listen to patients, present different options
Thankfully, for the first 27 years of my life I rarely had to engage much personally with doctors.
But when you have a pregnant wife and then a new baby, you find yourself talking to a lot of doctors and other healthcare professionals.
We're fortunate we found a good pediatrics practice who listens to our concerns and provides multiple options and the costs and benefits of different healthcare decisions.
But many do not have that same experience, and we've certainly had poor encounters with other medical professionals.
It all comes down to the same mentality – "I am a doctor so I therefore know more than you." But most health decisions do not have clear cut answers.
Decisions about nursing, sleeping, vaccines or childcare will involve different tradeoffs that involve someone's religious values, their health and costs.
A good medical professional can lay out the different options and present the cost-benefit analysis. He will understand the current medical literature but also the potential flaws in it. This is true whether the discussion is about a parent's decision on when to start feeding a baby solid foods or the course of action to deal with a tumor.
A bit of humility is a good thing – the "experts" told parents for decades that babies should sleep on their stomachs, not on their backs. The consensus has now changed.
The UMich medical students most likely right now have the same problem of insularity and will have the same issue if they remain stuck in their mentality.
So next time the pro-abortion med students encounter someone who is pro-life, they should take a deep breath, listen to what is being said and consider if there is some value in what is being presented.
MORE: Check out the Campus Cancel Culture Database
IMAGE: PES Scorpio/Twitter
Like The College Fix on Facebook / Follow us on Twitter