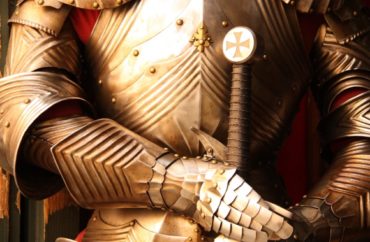 The Medieval Academy of America has just installed a modern-day code of chivalry for the protection of its most "vulnerable" scholars.
On Jan. 2, the academy's ad hoc committee on harassment released a professional behavior policy for its members, covering topics ranging from microaggressions to social media posts at conferences.
According to the document, it is meant primarily for the protection of "those in vulnerable positions" from other medievalist members, who could potentially "assert a relationship of power" over them.
What actions does the policy define as troublesome? While it is highly specific as to what constitutes sexual harassment, all of the other potential violations in the categories of "harassment," "microaggressions," "bullying" and "social media" are very general.
"Harassment includes demeaning, humiliating, and threatening actions, comments, jokes, other forms of verbal and/or written communication, body language, and physical contact," the policy states.
This generality has been taken by some to be problematic; despite the academy saying it "will not take breaches of professional or ethical behavior lightly," what exactly constitutes a breach in its judgement appears to be lightly outlined, if at all.
Much of what is written about is based upon an individual's personal judgement or feelings. For example, the academy strictly prohibits harassment in the form of "demeaning" or "humiliating … body language," but does not state what types of online actions are considered violations of either. It also says that bullying "may include refusal to recognize … personal constructions of work," which, as the word "personal" implies, differs from one professional to another.
Under the category of "microaggressions," instead of detailing in the policy what types of behavior are restricted, it links to a Tumblr blog titled "Microaggressions." The blog's last post was from over a year ago, and in the FAQ section in response to the question "What makes you an authority on microaggressions," its authors admit that they "aren't." They do, however, define the term as "the subtle ways in which body and verbal language convey oppressive ideology about power or privilege against marginalized identities."
The generalities regarding online violations are particularly concerning, especially given the importance of social media platforms like Twitter for the field; a lack of specificity in what is considered a punishable offense could end up decreasing the amount of conference tweets, hurting a valuable academic resource.
Professor Dorothy Kim, in a 2014 post on the prominent medievalist blog "In the Middle," explains just how essential a free forum for discussion—#medievaltwitter—is. She compares conference tweeting to "the space of marginalia [the area in the margins that provides valuable commentary] in medieval manuscripts," a modern-day, "real time" replication of the "conversations and connected marginal glosses of [medieval] readers."
Even an argument, she says, just like the highly publicized debate between her and Professor Rachel Fulton Brown, "makes for a fantastic Q&A session," and gives those who could not attend the conference a chance to participate in the discussion; one should "enjoy being in the thick of twitter marginalia."
In short, Twitter makes it so that "you are part of a floating community that allows you—as we can see in Marie de France's Fables, or Chaucer's Parlement of Foules—to speak radical (and often uncomfortable) politicized, intellectual, and social truths."
When reached for a comment, her frequent opponent, Professor Fulton Brown, agreed that one should be able to speak the necessary truth, even if some interpret it to be "uncomfortable."
"The Medieval Academy," she explained, "was a professional body founded out of mutual interest … for everyone who wanted to talk about the Middle Ages. I'm concerned about the effect that [this policy] is going to have on the professional body for its primary function, which was about open discussion about things that we might actually disagree on. If feelings are going to be the way in which we determine whether or not people belong in the conversation, then… it's a change in the character of the professional body, from one of mutual interest to social belonging, and that will change its effectiveness."
In response to such criticism and a request to comment, Professor Lisa Fagin Davis, the executive director of the academy, said this: "As stated in the introduction to the Policy, 'Mutual respect is expected; neither harassment nor bullying will be tolerated. A Medieval Academy in which members behave professionally and ethically is an important component of the continued health of our field in the next scholarly generations.' Academic freedom and free speech are cornerstones of our values as an organization. This Policy is designed to clarify behavioral expectations, support our values, and protect vulnerable attendees."
MORE: Medieval Studies scholars deem field too white
IMAGE: Tomasz Bidermann / Shutterstock
Like The College Fix on Facebook / Follow us on Twitter