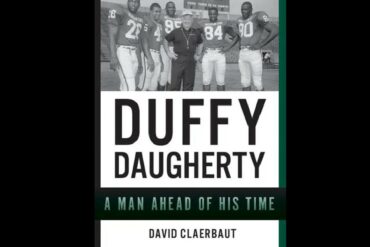 The movie also faces criticism for stereotyping black players, manufacturing racist white teammates
Higher education continues to struggle with ethics and research standards, as Michigan State University Press announced it will halt sales of a book about its integrated football team.
"Duffy Daugherty: A Man Ahead of His Time," chronicles the successful Michigan State coach from the 1950s and 1960s who had four black players on his team in 1966, when the team went undefeated.
But the book, which has been on the market since 2018, continues to face scrutiny for its citations. Meanwhile, a movie based on the book also faces criticism for both stereotyping black players and manufacturing racist white teammates which allegedly did not exist.
"The new freeze — which comes two months after the publication of that story — leaves the book's future unclear," The State News reported on July 27, with reference to its prior articles about concerns over the accuracy of the book.
While most books published by MSU Press use citations, the book by David Claerbaut only uses "in-line citations," according to the student newspaper.
A Georgia Tech historian who has written about the integration of MSU's team said Claerbaut's writing "makes it very difficult to follow the trail of information, it's problematic."
The university claimed that the lack of citations was not an issue because it was published for a "non-academic audience" under its non-academic publishing division. But the student newspaper pointed out the other three books from that arm all use citations.
MORE: The rise of campus hate crime hoaxes
But if the book has problems, the movie apparently has far more, creating storylines that reportedly did not happen and are not in Claerbaut's work.
The student newspaper reported:
[Maya Washington, a historian who is a daughter of one of the black players] says it includes invented romantic subplots seemingly out of a "modern soap-opera," wholly fabricated scenes involving former Michigan Gov. George W. Romney and American civil rights leader Martin Luther King Jr., and an invented white teammate whose "insatiable racism" drives him to attack a Black player and his girlfriend, leaving the latter for dead. The film then has Daugherty learn about the incident, but take no action, because the invented white player's father is a donor to the team, Washington said.
"I am falsely depicted as frequently partying – even drinking 'jungle juice' – and offensively portrayed as speaking in broken and crude English," Gene Washington stated. "I pride myself on a clean lifestyle, was driven and focused, and devoted my time in college to multiple sports, attending to my studies and carrying myself with class."
The controversy over the movie, but particularly MSU's role in the book, reflects ongoing concerns about the ethics and trustworthiness of academia and higher education institutions.
The news of the freeze comes at the same time Stanford University's president had to step down following an investigation which determined there was manipulated data in some of his papers. Florida State University terminated a black criminologist named Eric Stewart who pushed out flawed academic papers that claimed to find proof for racism.
Stewart "demonstrated extreme negligence in basic data management, resulting in an unprecedented number of articles retracted" and "numerous other articles now in question," according to his termination letter.
Academia and higher education institutions must restore standards of accuracy and demand proof for claims. Only then can the "junk citations" Professor Bruce Gilley has warned about end and trust be restored.
MORE: Michael Knowles highlights history of campus hate crime hoaxes
IMAGE: Michigan State University Press
Like The College Fix on Facebook / Follow us on Twitter