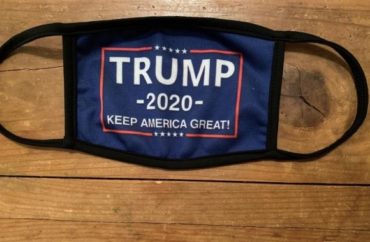 Policy forbids public support for candidates while in school
Minneapolis Public Schools has continued to investigate an unnamed teacher at an unnamed school for wearing a "Trump mask" on May 25, 2021, one-year after George Floyd died.
The school district would not provide many details to The College Fix, such as the name, gender and the school the teacher works at. Local Minnesota station WCCO first reported the investigation on May 26.
"MPS is investigating a complaint related to this allegation and the teacher is on leave," Dirk Tedmon, a spokesperson for the district, told The Fix in an email. "We want to be clear: Every student in our school deserves to be treated with respect and dignity."
Tedmon said that the district is working on "[c]reating a welcoming, affirming culture" and that includes "addressing bias, racism and microaggression."
"Each of our students have inherent value, and race and ethnicity are important parts of who we are and how we experience the world."
He did not say what the mask specifically said or looked like.
MORE: Catholic high school fires teacher for questioning cause of Floyd's death
"Regarding campaign attire related to this investigation, that is an inquiry about a specific matter under investigation," Tedmon said. The spokesperson said that "due to data privacy and wanting to conduct a full and fair investigation, we will not be providing further information."
"It has always been our guidance and expectation that while we encourage people to vote, MPS staff should not display what their voting will be," Tedmon said.
He did not explain how wearing a mask for a candidate six months after an election related to the policy cited.
Minneapolis Public Schools also did not answer a question regarding the specific rule the teacher is accused of violating.
The local teachers union is not representing the teacher and did not have any further information on the matter, according to Greta Callahan.
Callahan, president of Minnesota Federation of Teachers Local 59, told The Fix in a phone interview that the teacher is not a member of the union but it has no policies regarding political attire.
District removed police officers from the schools after Floyd's death
The district has taken a stance aligned with racial issue activists when it comes to policing.
After Floyd's death, the Minneapolis Public Schools terminated its contract with the Minneapolis Police Department to provide school resource officers. School board members said that police presence contradicted the district's commitment to combat institutional racism. Instead, district officials opted for a security plan consisting of 11 new "public safety support specialists."
Among the qualifications MPS sought out for its replacement force were previous experience in law enforcement. This sparked backlash from local activists who believed that such experience would perpetuate discriminatory and racist policing practices in public schools. They also claimed the hiring process was being rushed.
By September, MPS found 11 replacements. Later that month, three Minneapolis Public Schools principals signed a letter to both MPS and MPD, heavily criticizing both entities. The hasty termination of the MPD contract "exhibited over-generalization, surface-level problem solving and short-sightedness," on the part of MPS, while the public withdrawal of the MPD left public schools effectively "on their own," it said.
When asked how the replacement security force had been performing since being hired, Julie Brown, a district spokesperson, told The Fix that it is "not in a position to evaluate the role of the Specialists based on this past year of school."
She pointed to pandemic related changes in schooling, as some months at MPS involved "distance learning, and then several more in a hybrid learning situation."
The new security officers are "not armed, they don't carry handcuffs or pepper spray or any of those tools," Jason Matlock, the security director for the district, told the Christian Monitor.
MORE: Some majority-black schools reject calls to remove cops
IMAGE: Alliance Defending Freedom
Like The College Fix on Facebook / Follow us on Twitter